A Spencer Township trustee who lost his re-election bid by one vote filed a complaint with the Lucas County Board of Elections Tuesday accusing five people of voting from an illegitimate address.
Unofficial voting results show Michael B. Hood failed to retain his seat on the township board in the Nov. 7 election, with Shawn Valentine and Kris Ruhl as the top vote-getters. Mr. Ruhl finished one vote ahead of Mr. Hood in the election, garnering 179 votes to Mr. Hood's 178. Mr. Valentine finished with 227 votes.
But in a complaint filed with the board of elections Tuesday, Mr. Hood called for a recount, and accused Patrick Mahornoy, Eric Valentine, Jane Valentine, Nickolas Valentine and Robin Valentine of voting from an "illegal" address located on the 300th block of Meilke Rd.
"I don't understand how they are allowed to continue to vote using the 327 N Meike Rd. address, since there is not a house, mobile home or trailer located on this property," he wrote in his complaint.
"I am petitioning the board of elections to invalidate and throw out anyone's vote who voted from this address on November 7, 2017."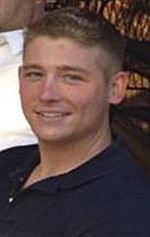 Shawn Valentine
Mr. Valentine in a written message to The Blade Tuesday said Mr. Hood's allegations "were previously resolved by the board of elections in the spring of 2016," referring to a similar complaint raised by a county poll worker last year.
"Re-submitting a duplicate complaint serves no legitimate purpose and only further exposes our community to the chaotic political culture that once plagued our township," he said in the message.
Lucas County Board of Elections officials could not be reached Tuesday evening.
At the time the 2016 complaint was filed, Mr. Valentine told The Blade by email that the poll worker was "very close, personal friends" with one of Mr. Valentine's political opponents, and said the complaint was "the exact kind of harassment my family and I have been dealing with for a while."
He identified Mr. Mahornoy as his father, Robin Valentine as his mother, Eric and Nickolas Valentine as brothers and Jane Valentine as his grandmother. The Meilke Road property is in Mr. Mahornoy's name, according to the Lucas County Auditor website.
None of the individuals named in the complaint returned calls seeking comment Tuesday evening. Mr. Ruhl could not be reached.
The Spencer Township trustee race was one of two contests from the Nov. 7 election that could require a recount based on state law, although provisional and late-arriving absentee ballots still have to be counted. Results from those ballots are expected to be released Nov. 22.
State law requires a recount of randomly selected precincts if the vote difference is less than half of 1 percent of the total vote in the election.
Contact Javonte Anderson at janderson@theblade.com, 419-724-6065, or on Twitter @JavonteA.
Guidelines: Please keep your comments smart and civil. Don't attack other readers personally, and keep your language decent. Comments that violate these standards, or our privacy statement or visitor's agreement, are subject to being removed and commenters are subject to being banned. To post comments, you must be a registered user on toledoblade.com. To find out more, please visit the FAQ.