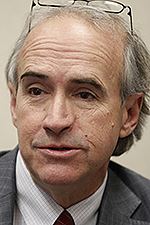 Michael Beazley, administrator of the city of Oregon, will be a senior policy adviser for incoming Toledo Mayor Wade Kapszukiewicz.
THE BLADE/DAVE ZAPOTOSKY
Enlarge | Buy This Image
Michael Beazley, administrator of the city of Oregon, will be a senior policy adviser for incoming Toledo Mayor Wade Kapszukiewicz, while keeping his job in Oregon, the mayor-elect said Monday.
Both Mr. Kapszukiewicz and Mr. Beazley said Mr. Beazley would work essentially for free for the city, or for $1 a year to satisfy a legal requirement.
RELATED: Kapszukiewicz transition team to seek public comment
It had been speculated that Mr. Beazley would join Mr. Kapszukiewicz's team as a chief of staff. Mr. Kapszukiewicz said Wednesday that a chief of staff manages city operations of the city. Mr. Beazley will help in big-picture questions, such as resolving the city's disagreements with Lucas County over construction of a new jail, negotiating labor agreements, and negotiating a regional water agreement.
"It's to look at a range of challenging issues without getting caught up in the challenges of day-to-day governance," Mr. Kapszukiewicz said.
"I would like to reorganize the 22nd Floor [of Government Center] so that we actually have a team that is thinking about public policy every day. I want Mike leading that team."
Mr. Beazley, 63, became Oregon administrator in 2010. Previously he was county administrator for five years. Before that he was Toledo clerk of council for seven years and a director or chairman of the Lucas County Board of Elections for 15 years. He is also a former chairman of the Lucas County Democratic Party.
"We're not talking a half day — more like a meeting a day or an hour a day. But at other times it might be longer," Mr. Beazley said.
Mr. Beazley said he can still do his job for Oregon, citing the convenience of text messaging, email, and telephone. He said he serves on 10 nonprofit boards and will give up serving on half of them to free up time for the city of Toledo.
Dennis Walendzak, president of Oregon council, said Mr. Beazley briefed him on his plans. He said he does not believe it will detract from Mr. Beazley's attention to Oregon and that it could be a boon for the city.
For example, even though Oregon is not part of discussions for joining a regional water agreement, it would be to Oregon's benefit to have their administrator participating in the talks, Mr. Walendzak said.
"He's expressed to me that he's going to devote the time that he had been giving to charitable boards to helping Mayor-elect Kapszukiewicz develop policy in his administration," Mr. Walendzak said. "I don't think it's going to affect the city of Oregon one bit."
He said conflicts of interest will be dealt with as they arise.
Mayor Michael Seferian did not immediately respond to a Blade phone call.
Mr. Kapszukiewicz announced his transition plans, including the appointments of Mr. Beazley, Rita Mansour, and Will Lucas to co-chair the transition committee, at a news conference in Mr. Kapszukiewicz's campaign headquarters in downtown Toledo.
Mr. Lucas, 37, is the founder and chief executive officer of A William Lucas Co., which is home to Creadio, a brand marketing firm. He is on the University of Toledo board of trustees.
Ms. Mansour, 53, is a wealth manager with a bachelor's degree in business from the University of Toledo.
Under the city charter, the new mayor and the newly elected, or re-elected at-large Toledo council members, will be sworn in and take their seats at 5:30 p.m. on the first business day of the new year, which is Jan. 2.
Mr. Kapszukiewicz, who will have to resign his elected post of Lucas County treasurer, said they will host four mayoral roundtables with invited guests on the topics of business and economic development; education, children and families; neighborhoods and safety; and quality of life investments in Toledo.
The transition includes a website, ourcityourfuture.org, where Toledoans will be invited to share their ideas, comments, and suggestions for the future of the city and learn more about the transition plan. Interested job applicants will also be able to upload their resumes, the campaign said.
The transition team will also host a policy action forum from 9-11 a.m. Dec. 9 to discuss implementation of the mayor-elect's platform issues, including clean and affordable water, road repairs, safe neighborhoods, and confidence in the city's budget.
Contact Tom Troy at tomtroy@theblade.com, 419-724-6058, or on Twitter @TomFTroy.
Guidelines: Please keep your comments smart and civil. Don't attack other readers personally, and keep your language decent. Comments that violate these standards, or our privacy statement or visitor's agreement, are subject to being removed and commenters are subject to being banned. To post comments, you must be a registered user on toledoblade.com. To find out more, please visit the FAQ.