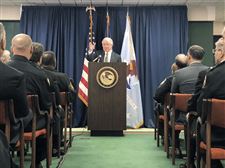 Attorney General Jeff Sessions speaks to the audience about eradicating violent crime in America in the U.S. Attorney's Office at Four Seagate Center on December 18.
THE BLADE/AMY VOIGT
Enlarge | Buy This Image
U.S. Attorney General Jeff Sessions complimented local federal prosecutors for successes against violent criminals during a speech to area law enforcement Monday, and promised to appoint an additional prosecutor to the U.S. Attorney's Office in Toledo.
Mr. Sessions, the chief federal justice official under President Trump, highlighted some of the crime trends in Toledo.
"We will not let the progress made by our men and women in blue slip through our fingers. Plain and simple: we will not cede a community, a block, or a street corner to violent offenders, thugs or dope dealers. This is our country. They don't own our streets," Mr. Sessions said.
"Sadly, this beautiful city has not been immune to these problems. In Toledo, rape is up 36 percent in just two years. Assault is up 15 percent. And murders are up an astonishing 54 percent," he said.

VIDEO: Attorney General Jeff Sessions speaks in Toledo
He said the rise in drug addictions leads him to "question whether now is a good time to reduce drug penalties again when we're seeing these kind of trends."
In his remarks,Mr. Sessions said Toledo would get two new prosecutors. His staff said afterward that the reference was to the Northern District of Ohio, which includes Toledo and Cleveland, each of which will get one new prosecutor. The Toledo office has 10 prosecutors now.
He spoke in the 5th floor of the Four Seagate, home to the federal prosecutors' local office — the 32nd such office Mr. Sessions said he has visited since being sworn in.
Mr. Sessions did not shed much light on the National Public Safety Partnership he announced in June. The Justice Department said the program would provide "significant assistance" for Toledo and 11 other cities to fight crime, drug trafficking, and gang violence.
Both Toledo's place on that list and Mr. Sessions' visit to northwest Ohio drew criticism from the attorney general's detractors.
The American Civil Liberties Union urged outgoing Mayor Paula Hicks-Hudson and Mayor-elect Wade Kapszukiewicz to formally withdraw from the DOJ initiative before it erodes criminal justice reform and public trust in Toledo.
RELATED: Toledo's crime rate relatively low despite recent violent surge
Around 40 protesters, organized by the Community Solidarity Response Network, protested outside Four Seagate, denouncing Mr. Sessions for his stances on civil rights, drug crime enforcement, and the city of Toledo's partnership with the Public Safety Partnership.
"We have a police department that is so open and available to be a part of a racist structure," spokesman Ruth Leonard said. "We have a police chief that stood up and said 'you know what, I'm excited to be a part of this project and I have no idea what it means.'"
She also called for continued pressure on city officials to advocate for minority communities within Toledo.
"Mayor-elect Wade Kapszukiewicz, we expect you to stand up for us," she said. "That means, when it is time for him to be sworn in, we will hold him accountable."
Protesters gather outside and yell up toward Four Seagate, where U.S. Attorney General Jeff Sessions was speaking about eradicating violent crime in America, in Toledo on Monday, December 18.
The Blade/Kurt Steiss
Enlarge | Buy This Image
Joe Dewey was one of the protesters who came out on Monday.
"I think he's always been against individual liberty," Mr. Dewey said, "The way he wants to execute the War on Drugs is very racist. More black people and brown people are in prison than anyone else and the crime rate is the same among the races."
Marilyn Bernstein said she has been protesting racism for much of her life, and came out to protest Mr. Sessions, who she thinks bears some responsibility for an increase in racism today.
"He's a racist," she said. "It all comes to a head now."
About 80 local officials attended Sessions' speech, including Toledo Chief George Kral, Lucas County Sheriff John Tharp, Oregon Police Chief Mike Navarre, and Wood County Sheriff Mark Wasylyshyn.
Chief Kral said Mr. Sessions met in a large roundtable discussion and then for about a half hour with a smaller group, in which he didn't details his policies, but rather emphasized that the federal government supports local law enforcement.
"He said he got an executive order from the President, to reduce crime in the United States," Chief Kral said.
Chief Navarre said he wished the attorney general had offered more concrete help to local law enforcement. He said throwing more people in jail is not the answer.
"I was hoping to hear more of what he and the administration are going to do for local law enforcement," Chief Navarre said.
"I remember the times when we got money to hire additional officers. We got money for equipment, technology. I would like to see that come back. I would like to see the availability of money for those purposes," the former Toledo police chief said. He cited devices that track criminals' cell phones and recognize faces, which he said are expensive.
"Just simply adding two prosecutors to the Northern District: Does that mean they're going to be transferring more cases out of Common Pleas Court? Does that mean more people will be going to federal prison? I suspect. I don't know that that's the answer, to lock everybody up. We tried that in this country and it doesn't work," Chief Navarre said.
VIDEO: Blade Briefing on AG's visit to Toledo
He said innovate methods are needed to address the opiate epidemic.
Mayor Hicks-Hudson was not invited to the attorney general's appearance, and did not offer a comment.
Mr. Kapszukiewicz, who takes office Jan. 2, said he would have liked to talk to Mr. Sessions but also wasn't invited.
"I want to learn more about this Justice Department initiative. There is no question that Toledo has had an awful year with violent crime this year. I would like to have talked to him about different strategies we can use to crack down on that," Mr. Kapszukiewiciz said. "It didn't work out today, but I hope to engage him and his team after the new year."
Staff writer Zack Lemon contributed.
Contact Tom Troy at tomtroy@theblade.com, 419-724-6058, or on Twitter @TomFTroy.
Guidelines: Please keep your comments smart and civil. Don't attack other readers personally, and keep your language decent. Comments that violate these standards, or our privacy statement or visitor's agreement, are subject to being removed and commenters are subject to being banned. To post comments, you must be a registered user on toledoblade.com. To find out more, please visit the FAQ.