Mayor Wade Kapszukiewicz wants to see Toledo grow.
He wants to partner with local organizations, embrace parks and natural resources, strive for universal prekindergarten, and push for economic development. That's what successful cities do, he said Thursday in his first State of the City Address.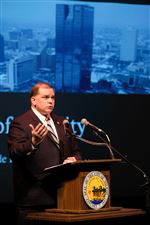 Mayor Wade Kapszukiewicz delivers the 2018 State of the City Address Thursday, February 22, 2018, at the Ohio Theatre and Event Center in Toledo.
THE BLADE/JEREMY WADSWORTH
Enlarge | Buy This Image
Mayor Kapszukiewicz told the crowd that 92 of the country's top 100 cities have growing populations, and although Toledo is a top 100 city, it's one of the eight that's continuing to lose population. But the mayor is optimistic that trend will reverse.
He told elected officials, businessmen, and citizens gathered at the Ohio Theatre and Event Center that everyone in the city, no matter their political leanings, needs to work together to make Toledo a success.
"While we are excited, and we should be excited, about the economic progress that we've made in downtown and in some parts of Toledo, we know that we will never become what our city can fully be until that economic energy spreads out into our neighborhoods," he said. "That's why we're in a neighborhood tonight."
He spent much of his hour-long speech outlining his plans for improving parks and facilitating economic development, which he believes go hand-in-hand.
The mayor wants to see Grassy Island become an accessible park and said his administration has started talking with the U.S. Army Corps of Engineers to make that a reality. He also commended Metroparks Toledo for its willingness to partner with the city and announced a new bike share program he said will take shape soon.
Metroparks Toledo, through a $256,000 grant, will buy 100 bicycles and 20 stations for use downtown and in adjacent neighborhoods. Once the equipment is installed, the city will maintain the program, Mr. Kapszukiewicz said.
"I hope to swipe my card in West Toledo, ride a bicycle downtown, park it, and at the end of the day, I will have a choice of whether I want to take the bus back or ride a different bicycle home," said the mayor, who takes a Toledo Area Regional Transit Authority bus to and from work once a week.
He also announced a new "innovation partnership" with the University of Toledo to work on becoming a "smart city." The partnership will create a plan to assess street conditions, improve outdoor lighting, and install free Wi-Fi throughout the city.
Mr. Kapszukiewicz thanked Cleveland-based Cliffs Natural Resources for investing in an iron pellets plant in East Toledo; ProMedica for investing in downtown revitalization; and real estate developer Frank Kass and Metroparks Toledo for their plans to transform the Marina District.
He spoke optimistically of a regional water system and about partnerships with the state and federal Environmental Protection Agencies to keep Lake Erie healthy.
"We are doing our part to protect Lake Erie," he said. "I know what side of history we will be on. I hope that we have partners to join us."
The mayor took some time to thank his predecessors and highlight key achievements of various city departments over the last year. He commended the city employees who have been working 12-hour shifts to fill potholes, collect leaves, and clear the streets of snow and ice, and he thanked the chemists and engineers who ensure Toledo water is safe to drink.
Mr. Kapszukiewicz praised the city's first responders and signaled out Toledo Police Detective Jason Picking, who was shot in the line of duty last year. Detective Picking received a standing ovation as Mr. Kapszukiewicz expressed his appreciation for his service.
The mayor concluded with a story about Don Quixote, whom he called "literature's most famous optimist." He said it's easy to fall into "a pessimistic rut" with all the work that has to be done, but that "Toledo's best days are still ahead."
City council member Yvonne Harper, who represents District 4, where the event was held, said she supported Mr. Kapszukiewicz's opponent, former Mayor Paula Hicks-Hudson, in the mayoral election but that she is "excited about what's happening in Toledo."
She commended Mr. Kapszukiewicz for his young, majority-women staff and said she is looking forward to collaboration between city council and the administration.
"We won't always agree with this mayor, but we have confidence in this mayor and believe the team he has put in place will strive to make Toledo the greatest city it can be," she said.
Council President Matt Cherry also said he is excited to both work with the mayor and build partnerships with other city organizations.
North Toledo couple Kelley and Corey Bern, both 24, attended the State of the City to hear what their new mayor had to say.
"I just loved the word that he continued saying: successful," Mrs. Bern said. "And hearing him say that it's about the neighborhoods, because I think that sometimes we can feel forgotten in the shadow of downtown. ... This is our neighborhood and our city, and I'm proud of it."
Contact Sarah Elms at selms@theblade.com, 419-724-6103, or on Twitter @BySarahElms.
Guidelines: Please keep your comments smart and civil. Don't attack other readers personally, and keep your language decent. Comments that violate these standards, or our privacy statement or visitor's agreement, are subject to being removed and commenters are subject to being banned. To post comments, you must be a registered user on toledoblade.com. To find out more, please visit the FAQ.