41.3764
-81.64001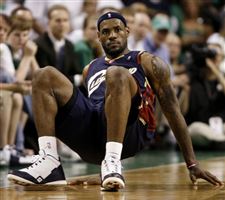 The Cavaliers need LeBron James to bounce back tonight if they have any chance of winning their series against Boston.
Winslow Townson / AP Enlarge
INDEPENDENCE, Ohio - LeBron James swished a few uncontested 20-foot jump shots. He made layups, finger rolls, 3-pointers, and free throws - a few left-handed. He even worked on a few trick shots in a friendly game of "P-I-G."
Yesterday, James hardly missed.
It's so easy when the Boston Celtics aren't around.
Cleveland's superstar looked relaxed and upbeat yesterday as he and the Cavaliers, down 0-2 in the Eastern Conference semifinals, studied film and shot around while trying to figure out how to solve Boston's boa-constricting defense.
Over the first two games, James shot 19 percent (8-of-42) from the field. The all-star forward committed twice as many turnovers (17) as he had field goals (8). He's 0-for-10 on 3-pointers, and his 16.5 points per game average is 13.5 lower than his league-leading mark during the regular season.
"I don't think he's ever had two games like this," said teammate Wally Szczerbiak. "But the poor guy's got so much on his shoulders. He's got to carry the weight of the team, the weight of the offense, and he's got everyone pointing fingers at him and trying to stop him."
The Cavaliers may be without starting forward Ben Wallace for tonight's Game 3. He's listed as doubtful because of allergies and a left inner ear infection.
James' field goal percentage is the lowest to start a series by a player with at least 30 attempts since Philadelphia's Joe Fulks (17.6 percent) in 1948.
According to Elias Sports Bureau, James' two-game shooting percentage is also the lowest in the shot-clock era in the NBA playoffs among players who attempted at least 40 shots over any two consecutive games in one postseason.
The previous low of 19.5 percent was set in 1961 by Boston's Tom Heinsohn, now a Celtics broadcaster who had a front-row seat to witness James' brick outings of 2-for-18 in Game 1 and 6-for-24 in Game 2 on Thursday night.
But despite the statistical ugliness, the Cavaliers remain confident that James, who got off to a similarly slow start in last year's conference finals against Detroit, will regain his shooting touch at home. James is missing shots that he normally makes, and the Cavs feel it's only a matter of time that the rim widens for the 23-year-old.
While not directly criticizing James' game, Cleveland coach Mike Brown made it clear that James has had chances to score but has simply missed them or passed them up.
"I've seen him hit some of those shots time and time again," Brown said. "We went through and watched the tape [of Game 2] twice. He had a handful of looks that were not open, but wide open. He's going to have to keep shooting that thing. I believe in him. The team believes in him, and when that shot goes in, it's going to loosen everything else up for him the rest of the way."
The Celtics held a brief film session at their practice facility before boarding a plane for Cleveland.
"We want to focus on trying to get this first win in Cleveland," Garnett said. "We are going into a hostile building, and we know that they play really well at home, they have a lot of confidence at home, and they play with tremendous energy at home."
Guidelines: Please keep your comments smart and civil. Don't attack other readers personally, and keep your language decent. Comments that violate these standards, or our privacy statement or visitor's agreement, are subject to being removed and commenters are subject to being banned. To post comments, you must be a registered user on toledoblade.com. To find out more, please visit the FAQ.