42.33168
-83.04792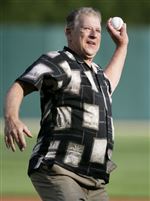 Mickey Lolich, who won three games, including the deciding game, in the 1968 World Series, threw out the ceremonial first pitch in last night's game between the Tigers and Cardinals.
Duane Burleson / AP Enlarge
DETROIT - Gates Brown, THE pinch hitter for the 1968 Detroit Tigers, was a career .257 hitter.
But when the members of that World Series championship team get together, like they did yesterday at Comerica Park, Brown said they all remember their statistics being a little better than record books indicate.
"Now I'm a .300 hitter," Brown said with a laugh.
Brown was one of 17 players and coaches from that '68 team on hand yesterday for a celebration of the Tigers' World Series triumph over St. Louis nearly 40 years ago. Joining him were hall-of-famer Al Kaline, Jim Price, Willie Horton, Wayne Comer, Bill Freehan, John Hiller, Mickey Lolich, Tom Matchick, Dick McAuliffe, Denny McLain, Daryl Patterson, Mickey Stanley, Dick Tracewski, Jon Warden, Don Wert, and Hal Naragon, who was a coach on manager Mayo Smith's staff.
The honored guests were introduced on the field before last night's game against the Cardinals - the same organization Detroit bested for the title four decades ago.
Lolich, who won three World Series games that year, threw out the ceremonial first pitch.
"We really had something very special that year," Tracewski said. "It was special because everybody contributed."
McLain went 31-6 that year, winning the American League Cy Young and Most Valuable Player awards. Horton led the Tigers with 36 homers and a .285 batting average in the "Year of the Pitcher," and Stanley won a Gold Glove in center field.
Brown, the pinch-hitting specialist who batted .370 in 92 at-bats, said the day he had two game-winning hits to beat Boston in a doubleheader on Aug. 11 was when the Tigers knew they were a special team. They won 103 games that season, finished 12 games in front of second-place Baltimore, and edged St. Louis in seven games.
All of this following a tumultuous 1967 - when race riots engulfed Detroit and the Tigers finished a disappointing single game behind Boston for the pennant.
"In our minds, this was our year," Brown remembered. "We came back a lot, and a lot of people wrote us off.
"Nineteen-sixty-seven was a bad year all around. Sixty-eight brought about change. It brought the town a little closer."
Many players from that team still live in greater Detroit, including Lolich, who said he lives about 30 miles east of the Motor City. Lolich said the number of players who stayed in the area is "very important" for the lasting bond between that team and its fans.
"People realize we live in the community and people get to see us off and on," Lolich said.
While it is common for former players to talk about changes in baseball from their glory days, Horton, now a member of the Tigers front office, took a different approach.
"Baseball is baseball, it never changes," Horton said. "People in the game change, but it's still the same game. I don't like to compare yesterday's player to the player of today."
Guidelines: Please keep your comments smart and civil. Don't attack other readers personally, and keep your language decent. Comments that violate these standards, or our privacy statement or visitor's agreement, are subject to being removed and commenters are subject to being banned. To post comments, you must be a registered user on toledoblade.com. To find out more, please visit the FAQ.