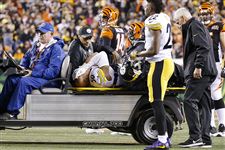 Pittsburgh Steelers linebacker Ryan Shazier is carted off the field after an injury in the first half of Monday's game against the Cincinnati Bengals in Cincinnati.
ASSOCIATED PRESS Enlarge
Steelers linebacker Ryan Shazier underwent spinal stabilization surgery Wednesday night to address his spinal cord injury.
UPMC neurosurgeons and Steelers doctors Joseph Maroon and David Okonkwo performed the surgery, but no other details were provided.
There's no timetable for Shazier's recovery.
"I'm not worried about him playing for us again," defensive coordinator Keith Butler said after the announcement. "I'm more worried about him."
Shazier injured his spinal cord after making a tackle against Bengals receiver Josh Malone Monday night at Paul Brown Stadium. He was brought back to Pittsburgh Wednesday afternoon after spending two nights at UC Medical Center in Cincinnati.
When the Steelers issued their first statement on Shazier early Tuesday morning they said the condition, originally called a back injury, would not require surgery "at this time."
Spinal stabilization surgery, according to the UPMC website, uses rods made of flexible materials to stabilize the affected area.
When the spine is unstable, according to the site, excessive motion can pinch nerves adjacent to the spinal column, leading to leg pain, numbness and weakness.
Spinal stabilization surgery reduces movement but does not eliminate it, and differs from traditional spinal fusion, which connects vertebrae with metal screws and rods. Those metal implants, according to UPMC, can cause problems like disc degeneration.
The Blade and Post-Gazette are both owned by Block Communications Inc.
Guidelines: Please keep your comments smart and civil. Don't attack other readers personally, and keep your language decent. Comments that violate these standards, or our privacy statement or visitor's agreement, are subject to being removed and commenters are subject to being banned. To post comments, you must be a registered user on toledoblade.com. To find out more, please visit the FAQ.