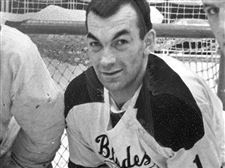 Moe Benoit was voted the greatest defenseman in the history of the IHL.
Maurice "Moe" Benoit, a stellar defenseman with the Toledo Blades during the 1960s, will be inducted into the Toledo Hockey Hall of Fame in 2019.
Benoit, who played for the Blades from 1963-66, was voted the greatest defenseman in the history of the International Hockey League.
Before coming to Toledo, Benoit was a member of the Canadian Olympic hockey team, which won the silver medal in 1960 in Squaw Valley, Calif.
The native of Valleyfield, Quebec, joined the Blades as a player/coach during the 1963-64 season and guided the team to the Turner Cup championship. He served as player/coach the next season, then was a player only with the Blades during the 1965-66 season.
With the Blades, he played in 187 regular-season games, scoring 42 goals with 108 assists. In 17 playoff games with Toledo, Benoit scored four goals with six assists.
Benoit went on to play with the Dayton Gems from 1966-70 and was part of Dayton's Turner Cup title team in 1969.
Benoit joins John McGrath, a pioneer of pro hockey in the city playing with the Mercurys in the early 1950s, in the upcoming hall class. The Walleye organization will announce one new member each day this week.
The Toledo Hockey Hall of Fame was created to honor individuals who shaped the city's hockey heritage. The selection of the candidates is determined by the Toledo Hockey Hall of Fame committee, made up of former coaches, players, team historians, and media. Fans also have input during the voting phase.
The hall of fame event also will run in conjunction with ECHL all-star weekend, which is Jan. 18-21. The hall of fame luncheon will be Jan. 20.
Guidelines: Please keep your comments smart and civil. Don't attack other readers personally, and keep your language decent. Comments that violate these standards, or our privacy statement or visitor's agreement, are subject to being removed and commenters are subject to being banned. To post comments, you must be a registered user on toledoblade.com. To find out more, please visit the FAQ.