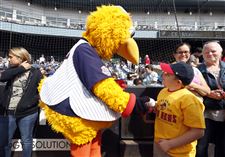 Nick Pfaff 10, of Navarre Elementary School, gets a baseball from Muddy the Mud Hen before the Mud Hens' game against the Charlotte Knights at Fifth Third Field Wednesday. Toledo will host another School Celebration Day game Thursday.
Blade/Amy E. Voigt Enlarge
Charlotte at Toledo Mud Hens
■ Time: 10:35 a.m.
■ Records/standings: Charlotte 15-23, 3rd in IL South; Toledo 25-12, 1st in IL West
■ TV: BCSN
■ Radio: 1230 AM
■ Starting pitchers: Toledo RHP Kyle Dowdy (first Toledo appearance in 2018) vs. Charlotte LHP T.J. House (1-4, 6.37 ERA)
■ Wednesday's game: Four Mud Hens relievers – Johnny Barbato, Caleb Thielbar, Victor Alcantara and Kevin Comer – combined to limit Charlotte to two runs in a 3-2 Toledo victory. Jim Adduci had a pair of doubles to lead the Hens offense.
RELATED CONTENT: Mud Hens claim win over Knights Wednesday morning.
■ Promotions: This will be the Mud Hens' fourth and final School Celebration Day of the season. The morning contest will feature schoolchildren from around the area filling up Fifth Third Field for the second day in a row.
■ Transactions: The Mud Hens added Dowdy and fellow pitcher Kurt Spomer from Double-A Erie on Wednesday, and both should be available to pitch today. … Toledo also put right-hander Mark Montgomery on the disabled list Wednesday. … The Tigers optioned pitcher Ryan Carpenter to Toledo after he started in Wednesday's Detroit loss. The Tigers are expected to call up a pitcher to take Carpenter's spot on the roster before they play at Seattle Thursday.
■ Weather: Thursday is expected to be another beautiful day at Fifth Third Field, with temperatures eventually reaching the mid-70s and clear skies expected.
■ Notes: Toledo enters this contest with a four-game win streak, and a victory in this contest would give the Hens their second five-game winning streak this month. Toledo had a six-game win streak in April. … The Mud Hens also have a seven-game winning streak at Fifth Third Field. ... The Hens will win this three-game series with Charlotte even if they lose Thursday's game. Toledo has won nine of the 12 series it has played this season and is 3-1-1 in series played at Fifth Third Field. … Outfielder Mike Gerber, who was placed on the disabled list May 6 with a shoulder injury, is not with the Hens in Toledo. He currently is rehabbing with the Tigers extended spring training program in Lakeland.
Guidelines: Please keep your comments smart and civil. Don't attack other readers personally, and keep your language decent. Comments that violate these standards, or our privacy statement or visitor's agreement, are subject to being removed and commenters are subject to being banned. To post comments, you must be a registered user on toledoblade.com. To find out more, please visit the FAQ.