Austin Theriault found himself in a familiar place Sunday afternoon at Toledo Speedway.
The 2017 ARCA Racing Series champion was piloting the No. 41 Toyota in Victory Lane at the Menards 200.
Except Theriault didn't maneuver a single turn in the 200-lap race. He was just moving Zane Smith's car to pit road. The 18-year-old Californian was behind the wheel of all day, passing teammate Chase Purdy with eight laps to go and taking his third checkered flag since April.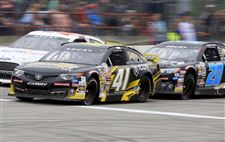 Zane Smith (41) leads Travis Braden, left, and Chandler Smith (20) during the Menards 200 ARCA race at Toledo Speedway.
Blade/Kurt Steiss Enlarge
Guiding Smith through a series of cautions, wrecks, and restarts was his spotter, Theriault.
"It's a help," Smith said. "We talked to Austin this morning about if he could spot for me, and he was up for it. That was my first time having another driver spot for me. He did a good job. It's pretty cool to end it this way."
PHOTO GALLERY: ARCA Menards 200 at Toledo Speedway
On Lap 142, Smith took the lead from polesitter Chandler Smith, who led a race-high 97 laps. Theriault told Zane Smith there were 50 laps to go, but he misheard it as 15. In command of the race, Smith felt like he was a shoe-in to win. When the white flag never came, Smith asked Theriault how many laps were left.
"I was like, 'Oh boy,'" Smith said, laughing. "Luckily, we got four tires, and it played out our way. [Winning] doesn't get old. Once you get one, they come a whole lot easier. You just know how to get it done. You have that mindset when you wake up every morning of what you need to do that weekend. That's the biggest key to racing."
VIDEO: ARCA Menards 200 at Toledo Speedway
It's a psyche Theriault knows well. He won seven times last year en route to the championship. But a lack of sponsorship in NASCAR's lower series has kept him out of the driver's seat so far this season.
"There's a lot of work that goes into a victory," Theriault said. "As a driver, you get to be the frontman for the fans and the representative of the whole team. Everybody else is under intense pressure to perform. Being a crew member, a mechanic, or a spotter is not an easy job. I have a lot of respect for those guys. It's good to be in Victory Lane. I'd like it to be as a driver, but it's better than not being at the race track."
Purdy, who graduated high school last week, finished second, Joseph Graf, Jr., was third, 15-year-old Chandler Smith was fourth, and Bret Holmes rounded out the top five. The top three were the only cars on the lead lap.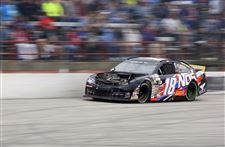 Riley Herbst rounds the corner after his car lost its hood during the Menards 200.
Blade/Kurt Steiss Enlarge
It was Chander Smith's third career ARCA start, and he's been on the pole for all three races. His Toyota was the car to beat, as he worked his way from 11th all the way back to the lead after he pitted twice during the first round of pit stops.
"I just need you to be patient," said spotter Frankie Kimmel, who won nine times at Toledo during his 80-win career. "You're a straightaway better than everyone else."
But a broken sway bar zapped Chandler Smith's chances at capturing his first victory.
Harrison Burton, last year's race winner, finished ninth after he was caught up in a wreck on Lap 103 with Riley Herbst and Thad Moffitt, the grandson of Richard Petty. Natalie Decker was seventh and 62-year-old Rick Clifton was 17th.
"I can go back to the 1950s and name for you drivers that raced here and went on and won NASCAR races at what now is the Cup level," ARCA president Ron Drager said. "I've been doing this since 1981, and I've never seen the depth of quality. The on-track product is as good as it's ever been."
Eighteen cars within one second of another in Saturday's practice lent credence to Drager's claim, as did a shrewd late lap pass to decide the race winner.
"I know [Purdy] is going to get some this year, but that was a ton of fun racing," Smith said. "The lappers were pretty hectic, but I guess that's what makes this place fun. It's just a classic short track where you can bump and run."
Contact Kyle Rowland at: krowland@theblade.com, 419-724-6110, or on Twitter @KyleRowland.
Guidelines: Please keep your comments smart and civil. Don't attack other readers personally, and keep your language decent. Comments that violate these standards, or our privacy statement or visitor's agreement, are subject to being removed and commenters are subject to being banned. To post comments, you must be a registered user on toledoblade.com. To find out more, please visit the FAQ.