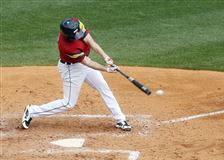 Toledo's Chad Huffman hits the ball against Indianapolis at Fifth Third Field earlier this season. Huffman's two home runs at Columbus Thursday carried the Hens to a come-from-behind win.
BLADE/AMY E. VOIGT Enlarge
Chad Huff­man hit a pair of home runs, including the go-ahead grand slam in the seventh, to carry the Toledo Mud Hens to a 9-7 road win against the Columbus Clip­pers on Thursday at Hun­ting­ton Park. The win gave Toledo a split of its four-game road series and helped it become the first team in minor-league baseball to reach the 30-win plateau.
What happened: Huff­man's two-run dou­ble sparked a four-run first inning for Toledo. But Co­lum­bus started chip­ping into that lead, get­ting a solo home run by Eric Stamets in the third be­fore scor­ing four times in the sixth, thanks to a solo shot by Yu Chang and a two-run home run by Nel­lie Ro­dri­guez.
But Huff­man gave Toledo the lead for good when he slammed the first pitch by Clip­pers re­liever Matt Belisle over the left-field fence for a two-out grand slam in the sev­enth. Co­lum­bus got two back in the eighth, but Huff­man capped the scor­ing with a solo home run in the ninth.
Game MVP: You're kid­ding, right? Huff­man sin­gle-hand­edly de­mol­ished his former Co­lum­bus teammates by go­ing 3 for 5, producing three runs scored and seven RBIs. He be­came the first Toledo bat­ter to record seven RBIs in a game since Brad Eldred ac­com­plished it April 24, 2012, against — you guessed it — Co­lum­bus.
Make a note of it: The Mud Hens have a 10-2-2 mark in the 14 se­ries they have played this sea­son. … Toledo now is 13-9 on the road in 2018. The only other In­ter­na­tional League team with a win­ning road record is Roch­es­ter at 13-8. … Jim Ad­duci's first-in­ning sin­gle ex­tended his hit streak to 11 games.
RELATED: Mud Hens outfielder Jim Adduci has had a "streaky" start to this season.
Comings and goings: Tigers third baseman Jeimer Candelario played in his second rehab game with the Mud Hens and had two singles and a walk in five plate appearances. Candelario has gone 2 for 8 with three runs scored and one RBI in his two games for Toledo.
A look ahead: The Mud Hens will open a four-game Me­mo­rial Day week­end home­stand Fri­day, when they host Nor­folk at Fifth Third Field at 7:05 p.m. Left-hander Josh Tur­ley (4-1, 3.11 ERA) will start for the Hens against the Tides' John Means (0-0, 8.31 ERA).
Contact John Wagner at: jwagner@theblade.com, 419-724-6481, or on Twitter @jwagnerblade.
Guidelines: Please keep your comments smart and civil. Don't attack other readers personally, and keep your language decent. Comments that violate these standards, or our privacy statement or visitor's agreement, are subject to being removed and commenters are subject to being banned. To post comments, you must be a registered user on toledoblade.com. To find out more, please visit the FAQ.