DURHAM, N.C. — The Toledo Mud Hens ran out of steam at the worst time.
Unable to generate much offense for the second game in a row, the Mud Hens were eliminated from the International League playoffs Saturday.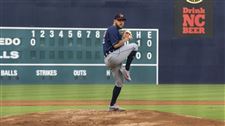 Toledo starting pitcher Matt Hall throws to the plate in the bottom of the first inning in Game 4 of an International League first-round series at Durham.
SPECIAL TO BLADE/PATRICK NORWOOD Enlarge
Durham pinned a 3-2 loss on the Mud Hens in Game 4 of the league semifinals at Durham Bulls Athletic Park, allowing the Bulls to win the best-of-five series 3-1.
"We made some youthful mistakes and it cost us," Mud Hens manager Doug Mientkiewicz said. "We scratched and clawed the best we could. We just didn't score enough runs."
Toledo won 10-3 in the series opener, then dropped the next three games by a total of four runs.
It was a disappointing end to the season for the Mud Hens, who reached the postseason for the first time since 2007.
"For our young guys to come up and taste this for the first time, it's going to go a long way," Mientkiewicz said.
The Bulls, who are the defending IL champions, start the Governors' Cup Finals next week against Scranton/​Wilkes-Barre .
Mud Hens starter Matt Hall gave a strong start but it wasn't enough.
"It was a tough way to go out," right fielder Jacob Robson said.
The Bulls scored twice in the sixth inning to snap a 1-1 tie.
Third baseman Harold Castro's throwing error got Durham's rally started. The Bulls went ahead on Brandon Snyder's bases-loaded single and made it 3-1 on Nate Lowe's sacrifice fly to deep center field.
That was it for Hall, who was solid for 5⅓ innings. Entering with runners on the corners with one out, reliever Johnny Barbato induced Rob Refsnyder's double-play groundout to prevent further damage.
Toledo bounced back on Chad Huffman's one-out, RBI single, but Jason Krizan grounded into a rally-ending double play with two runners on base.
Castro's two-out double in the eighth went for naught when Jarrod Saltalamacchia struck out. It stayed a one-run game to the bottom of the inning, when center fielder Daz Cameron dove to catch Snyder's two-out drive in the gap.
Jacob Robson worked a one-out walk in the ninth. Then with two outs and down to his last strike, Huffman was hit on the foot. But the game ended on Krizan's flyout.
"We definitely didn't get that hit when we needed them," Huffman said. "We just didn't get that hit. We did a good job of getting hits the last few weeks and we didn't get them [in this series]."
The Mud Hens didn't convert after Pete Kozma's leadoff double in the third, leaving him stranded at third base after Robson's sacrifice bunt.
Durham scored first on Jason Coats' two-out single in the bottom half of the inning.
The Mud Hens tied it in the fourth with Cameron's two-out double followed by Castro's single.
Hall had dazzled at times since joining the Mud Hens, posting a 4-0 record and 2.67 ERA to close the regular season.
Guidelines: Please keep your comments smart and civil. Don't attack other readers personally, and keep your language decent. Comments that violate these standards, or our privacy statement or visitor's agreement, are subject to being removed and commenters are subject to being banned. To post comments, you must be a registered user on toledoblade.com. To find out more, please visit the FAQ.