Home
→
Rachel Lenzi
31 stories in section, viewing 1 through 10
Updated 13 hours ago
UM comes up short at Utah
Rudock's pick-six in 4th quarter puts end to rally hopes.
Updated 13 hours ago
UM notebook: Whittingham, Baxter are familiar foes
SALT LAKE CITY — This wasn't the first meeting between Kyle…
9/3/2015 12:17 AM
UM ready for new beginning
Wolverines open tonight at Utes; Utah has had Michigan's number. …
9/1/2015 12:00 AM
Michigan mum on quarterback
Depth chart doesn't reveal starter for Utah game.
8/31/2015 12:02 AM
Morgan ready to hit someone
Senior linebacker eager to return to field.
8/28/2015 12:00 AM
Wolverines focused on spot at 'big-boy table'
UM yet to reveal starting quarterback.
8/26/2015 12:10 AM
Peppers is improving himself, UM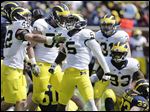 Injury stalled versatile defensive back in '14.
8/25/2015 12:02 AM
UM breaks silence, but doesn't say anything
Coordinators talk yet stay fairly mum.