An abandoned home, right, sits on South Avenue in South Toledo. Readers and city officials agree it's time for action.
THE BLADE/LORI KING
Enlarge | Buy This Image
No picnic or cocktail party, for certain, but blight in Toledo is turning into a conversation starter.
SPECIAL REPORT
Today, The Blade turns its attention on blight in Toledo. By many measures, the city has been in decline for decades, but the most recent recession has hit Toledo hard. "The urban death spiral" is how Mayor D. Michael Collins labels it. We do this not to put Toledo in a bad light, but because the deterioration of our city is undeniable, and the community needs to begin a discussion about what it will take to fix the problems confronting us.
RELATED LINKS
■ The Ugly Truth About Toledo page
■ Blight scars Toledo as residents, officials decry mounting mess
■ Can Toledo do better?
Join the conversation by sharing your thoughts and photos of Toledo. Remember to note the location your photo was taken, and to include #UglyTruthToledo somewhere in your tweet, Facebook post, or Instagram photo. You can also e-mail your photos to uglytruthtoledo@theblade.com.
Talking is good, several said in reaction to a special report on the city's blight plight published Sunday in The Blade. And although talking is good, action would be better, agreed some readers and city officials.
Many readers applauded The Blade for taking on the subject of blight because they love this city and they want to see improvements. Hiding blight won'‍t solve the problem; telling the stories, showing the photographs, some said, could help make a real difference.
Not all responses were positive, with some readers scolding The Blade or blaming Democrats, unions, taxes, schools, and so on.
Several city officials took time on Sunday to offer suggestions on how to address neighborhoods in shambles across the compass points. North, south, east, and west all have pockets of problems.
Overgrown weeds and grass, vacant and abandoned houses suffering from neglect. Broken windows, broken lives.
A multifaceted problem, in need of multifaceted solutions.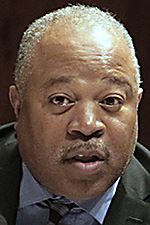 Riley
THE BLADE
Enlarge | Buy This Image
Councilman Tyrone Riley predicted the problem would get worse before it gets better.
"Without a sensible and responsible housing policy to fight blight, and to preserve and maintain housing stock, the problem will continue," he said.
"As the population continues to decline, the need for housing dwindles. Residents are becoming comfortable with living with blight. I believe eradicating blight is going to be one of the major challenges facing the city."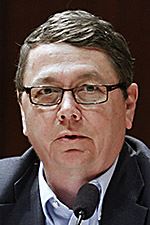 Ludeman
THE BLADE
Enlarge | Buy This Image
Councilman Rob Ludeman, a Realtor, said he probably sees more of Toledo than anyone else on council. "I see real nice parts of Toledo. I see parts of Toledo that unfortunately have been let go, especially over the last five years with the real estate depression."
He said he plans to introduce soon a proposal to increase the number of owner-occupied homes through an incentive that would offer an income tax break for three to five years to people who would pledge to stay in their homes that long. Maybe such an incentive would be the ticket to put Toledo over the top when potential homeowners come knocking at the city'‍s front door.
Other possible solutions, he said, include targeting specific neighborhoods; removing unoccupied houses that are beyond repair, and trying to find local developers to build houses people can buy outright or rent to buy. "There's a lot of solutions out there, but everyone has to put their heads together."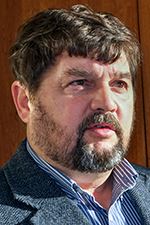 Craig
THE BLADE
Enlarge | Buy This Image
Councilman Mike Craig said, "I will tell you that I believe it is as bad now as it has ever been in my previous eight years on council." He started his time on council in 2006. "Demographics is a huge part of it. The budget is another large part. The only demolition being done aside from emergency demolition is through the land bank. No real local money is going into demolition."
20,000 houses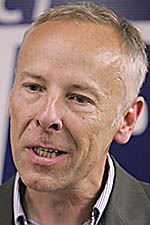 Waniewski
THE BLADE
Enlarge | Buy This Image
Overstock is an issue as well. Conservatively, he estimated that there could be 20,000 houses not needed in the city. At a cost of $5,000 per house for demolition, that'‍s $100 million to tear those structures down. He suggested the city should keep current with houses that absolutely need to be demolished. Too, the city should make low to no-cost offers to those interested in renovating homes. Some of that work is being done through the Lucas County Land Bank, he said, but "I think we need to look at ways to do more of that."
Property owners, he said, must be held accountable, and the complaint-driven nuisance abatement process isn't working. Right now, he said, you could live across the street from the worst house in a 10-block radius and if you don'‍t call, then nothing happens to correct the situation.
As a councilman who gets the calls from residents — and when they call, Mr. Craig said, "they are not happy people" — he thinks the call city hall program should be turned over to council for supervision in order to be effective in dealing with problems facing residents.
Councilman Tom Waniewski said blight seems to stem from the overall lack of respect people have these days for their properties and for their neighbors. He recalled how his father would make sure the family'‍s lawn was manicured and that summer vacations were spent painting the house. It was a time when people took a lot of pride in their properties. Not so much anymore in some areas.
Take pride
Premier Bedding at 1510 Elm St. in North Toledo reflects the blight afflicting the city. Neighborhoods are in shambles across the compass points.
THE BLADE/ANDY MORRISON
Enlarge | Buy This Image
To residents in blighted areas, he says go buy a gallon of paint. When a neighborhood respects itself, real change can happen.
Councilman Sandy Spang said the city needs a long-term vision, plus goals. And then move forward. Fighting blight, and repairing the problems, requires vision and planning.
A holistic approach should be pursued. "We need to be creative and smart on every front," she said. Toledo should look at communities that have successfully rid blight from neighborhoods.
She would welcome as many ribbon-cuttings as possible as neighborhoods turn around and become attractive to business owners who want to set up shop locally. Stabilizing homes is only one part of the picture, she said.
Mrs. Spang is an advocate for changes in how the city spends its Community Development Block Grant funds, and said the city should consider the many examples of exciting and creative ways to spend CDBG funds to benefit neighborhoods.
Jim Moody, the owner of Flex Realty, posted several suggestions on toledoblade.com. Among them are to use jail labor to cut weeds, remove gang "tags," and perform other menial labor.
Mr. Moody, who ran in the mayoral primary in 2009 against the eventual winner Mike Bell and others, said Toledo should use Habitat for Humanity style participation to promote home ownership in targeted areas and use money to make micro loans. He said the city should quit blaming investors — '‍'‍they are the only ones with money left in this town.''
He also suggested putting liens on properties and then selling the liens for cash; reducing rehab restrictions to allow homeowners to do more of the work themselves, and urged Toledoans to remember that schools are the driving force behind most people's home-buying decisions.
David Mann, president of the Lucas County Land Bank, said it's not too late for the city to step up and find long-term solutions to blight. First, people need to understand the extent of the problem, and "your story helps put a real focus on what is happening in neighborhoods." Local, state, and federal leaders must be held accountable for long-term solutions, and the banks should not be left out of the equation of problem solving. Big banks were huge contributors to this problem. "It is time for them to make restitution to our community."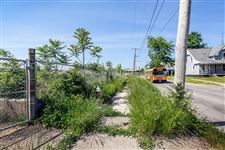 A school bus drives down Lincoln Avenue near an overgrown sidewalk near Smead Avenue in Toledo.
THE BLADE/AMY E. VOIGT
Enlarge | Buy This Image
Throwing up hands, giving in, and moving on, saying Toledo failed is not a solution. Certainly, Toledo is facing a challenge and it is in the best interest of the entire region to deal head-on with the issues in the city. Otherwise, the blight will creep out, like a cancer. You can't put up walls. "It is up to all of us to work on this together. We have to have that conversation," Mr. Mann said.
Jesse Mireles, a reader who lives in Waterville and has a studio in downtown Toledo, suggested the city invite officials from Baltimore to review what has worked there to turn things around. It wouldn'‍t be a silver bullet, but could be part of a variety of solutions. "It is a place to start."
'‍Pretty depressing'
Mr. Mireles described Toledo's blight, which he has seen first hand, as "pretty depressing." A graphic designer and artist, he grew up in East Toledo. To see the blight there today, "really hits hard. When we were growing up, it was a working-class neighborhood. People kept their yards tidy." Tidy yards started to disappear with jobs and the economic downturn. At one time, Toledo had a hum about it, a hum that seemed like it was never going to end. But end it did, and blight moved in as jobs left town.
Terry Glazer runs United North, an organization that serves about 30,000 people in North Toledo. The city, he said, needs to take a comprehensive approach.
Toledo officials feel a need to parcel out resources across the city, but Toledo could benefit from putting dollars to work in three to five neighborhoods and work there for a few years to address concerns and then move on to other neighborhoods, repeating the successes. Such concentrated efforts should look at entire neighborhoods: streets, sidewalks, houses, schools, parks, fire stations, libraries, businesses. Build up the neighborhood, build up neighborhood leadership. And don'‍t just toss a dart at a map to find a place to start. Find a place that has some hope of coming back.
Efforts made by the city aren'‍t working, so why not try something different? Decline won't stop on its own.
Contact Janet Romaker at: jromaker@theblade.com, or 419-724-6006.
Guidelines: Please keep your comments smart and civil. Don't attack other readers personally, and keep your language decent. Comments that violate these standards, or our privacy statement or visitor's agreement, are subject to being removed and commenters are subject to being banned. To post comments, you must be a registered user on toledoblade.com. To find out more, please visit the FAQ.