By one recent count, at least 5,000 vacant or abandoned homes are in Toledo.
They drag on property values, attract crime, and force someone — usually busy neighbors or cash-strapped cities — to cover the upkeep so the homes don't fall into complete disrepair.
It's a serious problem, and one that's proven not easy to solve, though many are hopeful that a new rule in Ohio could help get some of those homes — often called zombie properties — back onto the tax rolls and into productive use before it's too late to save them.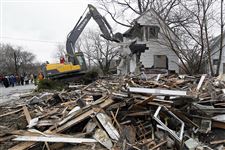 Ohio has about 80,000 vacant homes. But only 1,000 of those homes are so-called zombie properties, meaning the foreclosure process has been particularly long and drawn out.
THE BLADE
Enlarge | Buy This Image
In late September, Gov. John Kasich signed into law changes to the state's foreclosure guidelines that are aimed at significantly speeding up the foreclosure process for vacant homes from nearly two years to a matter of months.
"We have zombie titles all over the state," said Rep. Jonathan Dever, a Cincinnati-area Republican who sponsored the bill. "How do we give local governments a way to clean these up?"
Ohio has one of the highest numbers of vacant homes in the country.
According to figures from real-estate tracking firm ATTOM Data Solutions, Ohio had more than 80,000 vacant homes as of the third quarter. Only Florida, Michigan, and Texas had more.
Finding a way to more quickly deal with those vacancies is widely viewed as good policy.
"By getting those properties back into use quicker, it should help the surrounding neighborhood recover, or stabilize, or even grow. That's the theory behind it," said Paul Kaboth, vice president and community development officer in the Community Development Department at the Federal Reserve Bank of Cleveland.
In a 2013 white paper from Cleveland Fed, researchers identified developing a process to fast-track vacant and abandoned properties as a potential way to improve the state's housing market.
"It would have been much more helpful two years ago than it is now, but it's still helpful now," Mr. Kaboth said.
How successful this effort is, though, depends largely on its implementation and how much participation there is, both from lenders and municipalities.
And some community housing advocates have concerns that other provisions of the law could lead to more blight rather than less.
"We hope it does good things for the communities and provides new flexibility," said David Mann, president of the Lucas County Land Bank. "Our worry is it could create new problems. We'll just have to see what happens."
The fast-track foreclosure process applies only to vacant homes where the owner has defaulted on the mortgage. Mr. Dever is adamant there are no changes that would allow lenders to push out homeowners who haven't left on their own.
As a safeguard, lawmakers established a number of criteria that must be met. The law also requires a ruling that a property is vacant, and local officials must sign off on the fact that the property is indeed vacant.
But while officials believe the new process is important, it isn't automatic — the lender must request it in lieu of a traditional process.
Once vacant properties are in the foreclosure process, there's a provision that would allow municipal officials who believe that a lender is dragging its feet to petition a judge to speed up the process.
Mr. Dever, an attorney whose previous practice has included defending homeowners in foreclosure proceedings, said the changes won't fix the problem overnight, but they're important steps.
"Every one of these tools is meant to chip away at a piece of it so we have a holistic way of dealing with the issue," he said.
One of the bigger questions surrounding the law is just how many lenders and communities will be able to take advantage of it. Of the 80,000 vacant homes in Ohio, only about 1,000 of those homes are so-called zombie properties, according to ATTOM Data Solutions. It tallies 54 such properties in Lucas County.
"This is not going to address the entire vacancy problem, but one piece of it. Certainly though, I would say there are some banks that hold off even starting foreclosure because of the lengthy foreclosure process," said Daren Blomquist, senior vice president at ATTOM Data Solutions.
Banks are as aware as anyone how long a foreclosure process can take. And with a big stock of vacant properties on their books, they may not be keen to take on additional properties that they then become responsible for maintaining and marketing, especially some of the lowest value homes, experts say.
"I believe the goal would be to give those banks a reason to go ahead and foreclose even on some of those lower-value properties with the prospect of a more efficient and less costly foreclosure process," Mr. Blomquist said.
Other changes include a long-term requirement that the state establish a network of auction websites to replace in-person sheriff's auctions to dispose of the properties, an allowance for private auctioneers to handle the sale of the property, and a change to minimum-bid requirements after the first time a property is offered.
That last part is causing some concerns from local housing officials.
"In places where there's a functional neighborhood market, where properties have real value but maybe not the value they used to have, that might not be the worst thing in the world," said Mr. Mann of the Lucas County Land Bank.
His concerns are that the prospect of buying exceptionally cheap property could attract out of state or even international speculators who buy a home on the cheap and then end up abandoning it again.
The Lucas County Land Bank is in the midst of its own ambitious project to demolish or renovate 1,500 homes in 1,500 days. The work, funded by a nearly $14 million federal grant from the U.S. Treasury Department, will continue into 2020.
Mr. Mann said a survey performed 18 months ago found about 5,000 vacant properties in the city. He said last week that at least 2,000 of those were chronically vacant and seriously behind on taxes. Those are the properties on which the Land Bank is primarily focused.
As for the new legislation, Mr. Mann said, it's important for government to take the right approach with foreclosure rules. Going too fast can be just as bad as going too slow.
"Hopefully this bill has been designed to strike the right balance, but it's something we'll have to wait and see," he said.
Contact Tyrel Linkhorn at tlinkhorn@theblade.com or 419-724-6134.
Guidelines: Please keep your comments smart and civil. Don't attack other readers personally, and keep your language decent. Comments that violate these standards, or our privacy statement or visitor's agreement, are subject to being removed and commenters are subject to being banned. To post comments, you must be a registered user on toledoblade.com. To find out more, please visit the FAQ.