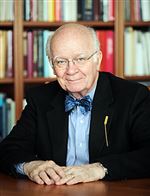 Rev. Martin Marty
This is a month of premieres at Sylvania United Church of Christ.
On Saturday from 4 to 5:30 p.m., Sylvania UCC's Bill Chidester Lecture Series begins, with its first speaker the Rev. Martin Marty. On Jan. 1, the church's new senior pastor, the Rev. Samuel Buehrer, started his service to the church.
In its promotional materials, the United Church of Christ presents the shortened form stillspeaking along with the words "God is still speaking" to express the church's belief that God still has much to say. At Sylvania UCC, 7240 Erie St. in Sylvania, Mr. Marty's lecture will focus on those four words. He will also speak at a forum between church services on Jan. 20, from 9:20 to 10:20 a.m.
The main goal of the lecture series, named in tribute to Sylvania UCC's pastor who died in 2011, "is to do what Bill did so well in the congregation," said the Rev. Susan Rowland Miller, a member of the lecture organizing committee and former associate pastor of the congregation: "to help people integrate their faith with their lives and the world. We felt Martin Marty could speak so clearly to that."
Mr. Marty, an emeritus professor at the University of Chicago Divinity School who taught religious history and is the author of more than 50 books, said with the motto "God is still speaking," "I think what the UCC wants to do is get people over a sense of nostalgia and defeatism." There's a feeling that "we don't hear God, we don't hear messages, we mark time," Mr. Marty said.
Mr. Marty gave a preview of a few points he will make in his lecture. "No. 1, I'll talk about God speaking. We're at a time when there's a lot of debate about God, about atheism, about the existence of God, etc. I would say you can never prove that God does speak or doesn't speak. It doesn't mean, though, that asking that question is a futile enterprise, because it helps to clarify thought.
"No. 2, just to say God speaks and we hear it doesn't settle everything; you can't prove only the rightness here. All witness or all hearing of witness is colored by the context of the community that hears. That's true of every text we've ever had. There's no such thing as 'uninterpreted.' We have to ask what is the context — it means that all speaking and hearing is an interpretation. What we have to understand for the Christian or citizen of today is to be very careful to hear context," he said.
"No. 3, in the broadest sense of the term, we're dealing with religious voice and hearing as opposed to nonreligious, and in this case Christian in the broadest sense of the term. The god in the Bible always speaks to us in the particular in order to get to the universal. It's like the Muslim takes the witness of Muhammad and universalizes there to what you can say about Allah. In the Bible, the very first words of the Hebrew talk about God calling creation into existence by a word. The revolution of our time is [that] God is still speaking and creation is continuing."
"One of the main goals of the [lecture] series," said Ms. Miller, associate executive director of Maumee Valley Habitat for Humanity, "is to continue to create dialogue afterward. We hope people will stay around and talk about what they heard, [about what] intrigued, challenged, frustrated" them. "God is still speaking," she reiterated.
The admission price for Mr. Marty's Saturday lecture is $10, which can be paid at the door, or $35 for the series of four lectures in 2013.
The other speakers scheduled are Alan Jones, dean emeritus at San Francisco's Grace Cathedral, on March 16 and 17; author and religion scholar Diana Butler Bass on Sept. 21 and 22; and professor and environmentalist Daniel Spencer on Nov. 16 and 17. More information is available by dialing 419-882-0048 or emailing bclecture@sylvaniaucc.org.
Contact TK Barger at: tkbarger@theblade.com or 419-724-6278.
Guidelines: Please keep your comments smart and civil. Don't attack other readers personally, and keep your language decent. Comments that violate these standards, or our privacy statement or visitor's agreement, are subject to being removed and commenters are subject to being banned. To post comments, you must be a registered user on toledoblade.com. To find out more, please visit the FAQ.