An associate pastor of St. Joseph Parish in Sylvania has been named the diocesan administrator of the Roman Catholic Diocese of Toledo and was introduced Thursday morning at a news conference at the Catholic Center.
The Rev. Charles F. Ritter's duty as administrator will be to lead the diocese during an interim when there is no bishop. The former diocesan bishop, Leonard Blair, was installed as archbishop of the Hartford, Conn., archdiocese on Monday.
Father Ritter takes up the bishop's appointment schedule, to a degree, to represent the diocese within its territory and in the larger church, but he does not have the same responsibilities as a bishop.
Father Ritter described his new responsibility by using a nautical analogy.
"In anything bigger than a canoe, I get seasick," he said. "But if you can, imagine an aircraft carrier at sea, and it's 2 a.m., and the captain is in his cabin asleep, but there's an officer of the deck, and he's basically responsible for running the ship.
"Don't sink the ship, don't start a war, and make sure when the captain wakes up in the morning, there are no surprises. That's my job."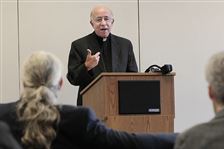 The Rev. Charles F. Ritter takes questions during a news conference for the announce-ment of his selection asadministrator of the Toledo Roman Catholic Diocese. Former Bishop Leonard Blair was installed Monday as the archbishopof Hartford, Conn.
THE BLADE/KATIE RAUSCH
Enlarge | Buy This Image
The diocese's College of Consultors, of which Father Ritter is a member, had to choose a diocesan administrator within an eight-day period after a bishop's vacancy is official; it only took one meeting of about three hours to appoint Father Ritter, said Msgr. William Kubacki, rector of Holy Rosary Cathedral and a consultor.
Father Ritter, 71, is a Toledo native and a 1959 graduate of Central Catholic High School. He has been a priest 47 years, including serving as pastor at St. Patrick Parish in Bryan from 1994 to 2009 and as director of the Diocese of Toledo social justice office from 1979 to 1989.
He said he intends to continue serving at St. Joseph as time permits, such as leading weekday Masses, presiding over some funerals, and teaching adult religious education.
"That will play out literally on an event-to-event, week-to-week basis," he said. "I'd like to disrupt the situation in Sylvania as little as possible, and Msgr. [Dennis Metzger], the pastor, would appreciate my disrupting it as little as possible."
Father Ritter's new job is to "basically keep things running" until a new bishop is appointed, which could happen in three months or could take more than a year.
There will be no "great wonderful new ideas, programs, directions. None," he said. "My job is to keep things functioning, to continue to enable people, whether in diocesan ministries or pastors and other people in leadership in parishes, to do their job. I'm supposed to make their job easier, not harder, and we all continue to pray that quickly a decision is made to appoint a new bishop to run the diocese. And then I graciously go back to being in parish ministry."
Father Ritter did speak with Archbishop Blair on Wednesday and might consult him on issues where his direct experience in Toledo might benefit, but Archbishop Dennis Schnurr of Cincinnati is the metropolitan for all the dioceses in Ohio, "so there will be some consultative things there," Father Ritter said.
When asked about the amount of change he can make as administrator, Father Ritter said, "I think it depends on where it falls on the 'has-to-be-dealt-with' list." He used the recent extensive tornado damage to a parish church in Cloverdale as an example.
"They can't wait 18 months to even have a conversation about what happens from there, and so that probably will need some attention," he said.
He said he doesn't want to prepare in a particular area, anticipating a bishop's direction, and then have the bishop choose a different path. "Quite frankly, my rule of thumb is to meddle in as few things as I can. It will probably be safer for me and for the diocese."
Earlier this week, representatives of the Survivors Network of those Abused by Priests, known as SNAP, visited the diocesan offices in Toledo and presented a screwdriver and a pen, which they said were symbols of change in the interim.
When asked about the organization and members' specific demands to use the screwdriver to remove signs from diocese facilities of two late monsignors accused of sexual abuse, Father Ritter said he "knows that things can be symbols of hurt and pain in powerful ways, and they shouldn't be brushed off lightly. So are we going to go out and take down a plaque this afternoon? Probably not, but I certainly want to continue to try to listen attentively when people that are hurting and represent those hurting raise issues.
"And it's part of our job to listen. I think [Pope] Francis, whose shadow kind of lays over much of the church these days, was suggesting that we need to be listening to people, and I think probably Jesus did too, and so it's probably a good direction to go."
"We need more than listening. I guess that's where my patience wears thin; we've been listening for years," said Claudia Vercellotti, a Toledo SNAP leader, of Father Ritter's remarks. "There is nothing innovative about doing the right thing."
Diocese spokesman Sally Oberski said that changes are being made to the diocese Web site to ensure more information is posted about the record of abuse allegations.
Monsignor Kubacki said Father Ritter will preside at the 4 p.m. Christmas Eve Mass at Our Lady, Queen of the Most Holy Rosary Cathedral, 2535 Collingwood Blvd.
Contact TK Barger @ tkbarger@theblade.com, 419-724-6278 or on Twitter @TK_Barger.
Guidelines: Please keep your comments smart and civil. Don't attack other readers personally, and keep your language decent. Comments that violate these standards, or our privacy statement or visitor's agreement, are subject to being removed and commenters are subject to being banned. To post comments, you must be a registered user on toledoblade.com. To find out more, please visit the FAQ.