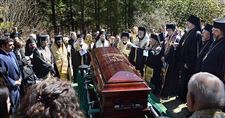 Priests gather around the casket of Metropolitan Philip Saliba at his gravesite at Antiochian Village Camp in Bolivar, Pa., before it is lowered into the ground.
BLOCK NEWS ALLIANCE/ROBIN ROMBACH Enlarge
BOLIVAR, Pa. — The scent of incense mingled with the cool, crisp air of the Laurel Highlands early Monday afternoon as hundreds of people gathered for the burial of Metropolitan Philip Saliba, spiritual leader of the Antiochian Orthodox Christian Archdiocese of North America.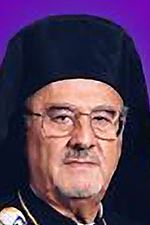 Saliba
Metropolitan Saliba died on March 19 at age 82. He had been the longest serving Orthodox bishop in the United States, having taken office in 1966. Funeral services had been held last week in New York City, where the archdiocese is based.
Born in Lebanon in 1931, Metropolitan Saliba was an outspoken advocate for Arab Christians but also was assertive in calling on his church to adapt to American ways and welcome converts with no ethnic connection to the Middle Eastern roots of the church.
He is credited with helping heal of a split in Antiochian Orthodoxy and overseeing a quadrupling of parishes to about 275.
He was laid to rest at Antiochian Village in Bolivar, Pa., the summer camp and conference center whose founding he oversaw in 1978.
Mourners had held an all-night vigil in a wooden chapel adorned with numerous icons. At noon, to the slow intoning of chapel bells, pallbearers carrying Metropolitan Philip, and a procession of clergy came to a hilltop pavilion for the service.
Metropolitan Saliba "would have loved" the outdoor setting, said Archbishop Joseph Al-Zehlaoui of Los Angeles.
"His long pastoral career produced fruit that greatly expanded the witness of Antiochian Orthodox," he added. Metropolitan Saliba reached not only fellow Arab immigrants and their children, the archbishop said, but he also "went out to the highways and hedges … seeking out the lost children of our generation."
Bishops and clergy surrounded his coffin and intoned Byzantine chants as they recited a mixture of Arab, English, and Greek texts, hymns, and prayers for his eternal rest.
After the service in the pavilion, pallbearers carried his coffin down the hill to a small, shaded cemetery, which includes the graves of several other prelates including St. Raphael of Brooklyn, a pioneering Antiochian bishop who died in 1915.
Numerous Orthodox bishops and clergy attended the service — from the Antiochian and several other traditions — as did Catholic and Protestant clergy. A delegation from patriarchate of Antioch, based in Syria, also attended.
The mourners also included plenty of lay people, both cradle Orthodox and converts. The camp mixes recreation with Orthodox liturgies, classes and events such as Bible-knowledge contests, all reflecting Metroplitan Saliba's efforts to educate and inspire younger generations.
The gathering of mourners "just goes to show how much people were touched by all the things he did," said Jordan Kurzum, a University of Pittsburgh student from New Jersey who has been active in the church's national youth organization.
Skip and Janice Loraw said their Antiochian church in York, Pa., is comprised almost entirely of converts, came to pay their respects.
"He was a great visionary," said Skip Loraw, himself a convert. "Everybody who met him fell in love with him."
Ms. Loraw, who grew up in another Orthodox tradition, said that the priests in her childhood seemed formal and distant, but Metropolitan Saliba and the clergy he inspired would dress less formally outside of church and were "very approachable."
Bishop John Abdalah — former dean of St. George Antiochian Orthodox Cathedral in Pittsburgh, now head of the Diocese of Worcester and New England — said it's "still hard to comprehend all of the lives that were affected by him."
In the coming weeks, the archdiocese will hold a convention to nominate three candidates as successor to Metropolitan Philip, with Antiochian metropolitans internationally making the final choice.
The Block News Alliance consists of The Blade and the Pittsburgh Post-Gazette. Peter Smith is a reporter for the Post-Gazette.
Contact him at: petersmith@post-gazette.com or 412-263-1416.
Guidelines: Please keep your comments smart and civil. Don't attack other readers personally, and keep your language decent. Comments that violate these standards, or our privacy statement or visitor's agreement, are subject to being removed and commenters are subject to being banned. To post comments, you must be a registered user on toledoblade.com. To find out more, please visit the FAQ.