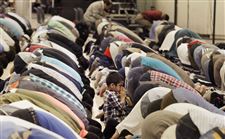 Worshippers bow for Asr, or afternoon prayer, at the 51st annual Islamic Society of North America Convention at Cobo Center in Detroit. Former President Jimmy Carter is to present the keynote speech today. The convention concludes Monday.
THE BLADE/ HASAN DUDAR
Enlarge | Buy This Image
DETROIT — The presiding bishop of the Evangelical Lutheran Church in America had a simple comparison for the similarities between Muslims and Lutherans when she spoke at the opening session of the Islamic Society of North America's convention Friday.
"I realized, looking at some of the lectures that you have scheduled, that if we were just to exchange 'church' for 'mosque' I would see I was in the same place with typical Lutherans."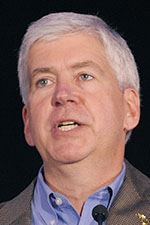 Snyder
AP Enlarge
Both communities are looking for ways for youth to read their sacred texts, Bishop Elizabeth Eaton said, and "we could certainly use this: 'Unmosqued to Re-mosqued, Getting Muslims Back to Masjid,'" rephrasing it as "'Unchurched to Churched in Movements Back to the Congregation.' We could say the same thing."
About 300 people attended the opening meeting at the Cobo Center.
PHOTO GALLERY: Click here to view slideshow.
This is the first time the organization has held the event here. More than 10,000 are expected before the 51st annual convention concludes Monday.
Nazife Amrou of Sylvania attended with her daughter. "Tomorrow the whole family is going to show up," she said, because it is near Toledo. "We enjoy it as a kind of family vacation, enlightenment, it is everything."
She said she likes the extensive program of sessions.
"They're touching every base so you can choose whichever you want, and also meet scholars and listen to them. The whole program is exciting."
The convention's keynote speeech by former President Jimmy Carter is today.
Michigan Gov. Rick Snyder also spoke from the podium about the program of events that cover six areas.
"The tracks of your program are well-selected and meaningful to all of us," the governor said. "Your first two tracks are about healthy culture and effective engagement, both taking account of the good work the Muslim community is doing in bringing Detroit back."
For the Healing Divides sessions, which look at ways to come together after conflict, Mr. Snyder said, "I'm a strong supporter of Israel and believe in its right to exist. But let's all work in this country and send a message together that peaceful settlement in the Middle East both short and long-term would be best for Muslims, Christians, Jews, and the entire world."
Bishop Eaton praised the patriotism expressed at the beginning of the meeting when, after a sheik gave a Qur'an recitation, Boy Scouts with the Islamic Committee on Scouting presented the state and U.S. flags then led the pledge of allegiance.
A singer from Chicago sang the national anthem.
"I wish all of those people who want to talk about Muslims simply in terms of a few extremists, as being somehow un-American, could have seen those young men," Bishop Eaton said.
Among the 12 speakers at the first meeting, ISNA's new executive director and CEO, Hazem Bata, asked that the participants "be engaged. You have to be engaged. Allah will not change the circumstances of people until they change within themselves," he said, "and that's not going to happen unless you engage."
Contact TK Barger: tkbarger@theblade.com, 419-724-6278 or on Twitter @TK_Barger.
Guidelines: Please keep your comments smart and civil. Don't attack other readers personally, and keep your language decent. Comments that violate these standards, or our privacy statement or visitor's agreement, are subject to being removed and commenters are subject to being banned. To post comments, you must be a registered user on toledoblade.com. To find out more, please visit the FAQ.