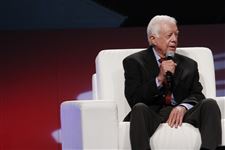 Former United States President Jimmy Carter delivered the keynote speech at the 51st Annual Islamic Society of North America Convention.
THE BLADE/ HASAN DUDAR
Enlarge | Buy This Image
DETROIT — Worldwide abuse of women and girls is "the most terrible human-rights violation on Earth," and the United States is not immune, former President Jimmy Carter said Saturday during an address to the convention of the Islamic Society of North America.
Among the grave statistics Mr. Carter cited during his speech before an audience of more than 3,000 in Cobo Hall is the routine strangulation of infant daughters, particularly in poor countries because poverty impels some families to desire sons for economic support when the parents grow old.
"At this moment, now missing from the face of the Earth are about 160 million girls because their parents strangled their daughters at birth," Mr. Carter said.
Besides poverty, he said, "the second cause is in China and India, the two largest countries on Earth, the government mandates small families: one [child] is best; two is most."
Former President Jimmy Carter talks about discrimination against women from THE BLADE on Vimeo.
And most parents want boys.
In the United States, Mr. Carter said, there are now "60,000 people living in human bondage. Slaves. In the United States of America. These kinds of things grieve me very much, but I realize the same problem exists in other nations and other problems as well."
Abuse is "basically ignored or condoned by the leaders in many countries," Mr. Carter said. The Carter Center's goal is "to turn that around and give women equal rights."
After he spoke, more than two dozen Muslim leaders from the United States and other countries joined him in signing a declaration promoting peace and equality for women.
Learning that "160 million girls and women were killed by their parents or their families was very striking to me," said Abdel-Wahab Soliman of Toledo. "I think it is very good that an American president was willing to talk about human rights issues and the crises all over the world. It's very important."
Other examples of abuse to women, Mr. Carter said, are genital mutilation, sexual assault in U.S. colleges and the military, and when underaged girls are forced into marriage .
During the hourlong session, Mr. Carter had words of both action and faith, drawn from the work focused on by his Carter Center, and much of it expanding on his current book, A Call to Action: Women, Religion, Violence, and Power.
Before his talk on women's equality being a human right, Mr. Carter spoke at a luncheon for 1,100 people recognizing community service leaders nationwide. He highlighted the Carter Center's work.
"We don't duplicate what other people do," he said, "we just fill vacuums in the world, and one of those vacuums is peace, particularly in the Middle East. One of our endless commitments at the Carter Center is to bring peace to the Middle East."
He said the Carter Center has full-time offices in Jerusalem, in the West Bank city of Ramallah, and in the Gaza Strip, and that the Carter Center's position matches that of "the United Nations, United States government, and all the European countries and most countries on Earth, and that is that Israel should withdraw from all the occupied territories to the 1967 borders."
He said that one part of the historic peace accords he negotiated at Camp David in 1978 hasn't had "one word" violated, but Israel has not honored the agreement regarding Palestine.
"You can't bring peace to Israel and Palestine without justice and human rights for the Palestinians," he said. "And when my prayers are answered and we have peace in that holy land, then the Israelis as well as all their neighbors will be blessed by a chance to live in peace and prosperity, where human rights and freedom and democracy can again prevail."
Northwest Ohioan Samiya Hasan said she was thrilled that Mr. Carter spoke at the convention.
"When I was in school, because I was a debater and I was involved in coalitions and other stuff," she said, "they used to call me 'Jimmy Carter.' I was in medical school at that time, and it was such a great honor" because she said she considers Thomas Jefferson and Mr. Carter "the most idealistic presidents for me."
Dr. Hasan is a naturalized U.S. citizen, born in Pakistan.
A Saturday evening session, "Generations Rise: Elevating Muslim-American Culture," took place with the president of ISNA, Imam Mohamed Magid, and four others speaking about advancing Islam and its people in America.
The session took place without the scheduled "secret special guest," the 20th sultan of Sokoto, Amirul Mu'minin Sheikh as Sultan Muhammadu Sa'adu Abubakar III, who is considered to be the spiritual leader of the 74.6 million Muslims in Nigeria.
Because of the crisis concerning Ebola in West Africa, the sultan remained in Nigeria, said Syed Mohiuddin, adviser to the convention steering committee.
Contact TK Barger @ tkbarger@theblade.com, 419-724-6278 or on Twitter @TK_Barger.
Guidelines: Please keep your comments smart and civil. Don't attack other readers personally, and keep your language decent. Comments that violate these standards, or our privacy statement or visitor's agreement, are subject to being removed and commenters are subject to being banned. To post comments, you must be a registered user on toledoblade.com. To find out more, please visit the FAQ.