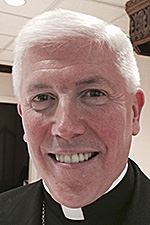 Thomas
THE BLADE
Enlarge | Buy This Image
When the Most Rev. Daniel Thomas enters Our Lady Queen of the Most Holy Rosary Cathedral for his installation Wednesday as the eighth Roman Catholic Bishop of Toledo, he will have family and church friends, including Cardinal Timothy Dolan, in attendance.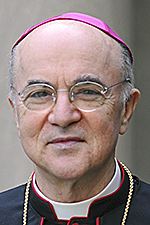 Vigano
Archbishops Carlo Maria Vigano, the apostolic nuncio or pope's ambassador in Washington, and Dennis Schnurr of Cincinnati, the metropolitan in Ohio, will be the installing bishops. Bishop Thomas will be installed at 2 p.m.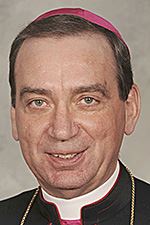 Schnurr
"The apostolic nuncio, who is obviously the personal representative of the Holy Father, in the very beginning he'll make a few remarks, and then he'll read the bull of appointment from the Holy Father, and then normally he walks with the metropolitan and the bishop to the cathedra, or the chair, to do the formal installation," Bishop Thomas said.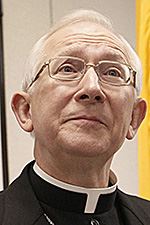 Blair
THE BLADE
Enlarge | Buy This Image
Archbishop Leonard Blair of Hartford, Toledo's previous bishop, and Archbishop Charles Chaput of Philadelphia, where Bishop Thomas — who is a native of the City of Brotherly Love — served since 2006 as an auxiliary bishop, will be concelebrating the Mass, along with Archbishops Schnurr and Vigano and Bishop Thomas, who will be the principal celebrant.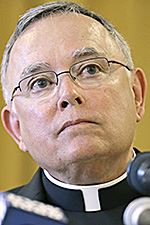 Chaput
ASSOCIATED PRESS Enlarge
Bishop Thomas will also give the homily. Cardinal Dolan, archbishop of New York, will not have a formal role. A pre-installation evening service with a homily by Bishop Thomas will be held at 5 p.m. today at the cathedral, 2535 Collingwood Blvd.
On Oct. 1, the Archdiocese of Philadelphia gave Bishop Thomas a formal farewell with an evening prayer service led by Archbishop Chaput. The worship "was very prayerful," Bishop Thomas said.
"There were a lot of folks there. There was a bus of 50 folks from [Our Lady of the Assumption Parish in Strafford, Pa.] where I was pastor before I became a bishop, so they were very generous to come. In fact, I was both humbled and excited to see folks from every parish where I served."
He also saw the bride from the first marriage he conducted as a priest, whom he said is "29 years married."
Bishop Thomas said that he thinks his family and other friends are traveling to Toledo not only to see him be installed, but for prayer. "I think it's to pray with me, that's why they're coming," he said. That will include 80 priests from the Philadelphia archdiocese.
Bishop Thomas expects close family to be in Toledo, including older brother, Francis P. Thomas III, a managing director and auditor for an investment and wealth management trust company in Philadelphia; sister-in-law Karen; nephew Andrew, a volunteer firefighter and emergency medical dispatcher, and niece, Emily, a photo editor.
And for a special tie, the Rev. William Hammer, pastor of Basilica of St. Joseph Proto-Cathedral in Bardstown, Ky., will be present. Bishop Thomas held the see of Bardstown, a predecessor to the Archdiocese of Louisville, in name only; auxiliary bishops traditionally receive titular sees, and most are of long-ago or faraway places.
"Since Toledo (1910) was created from the Archdiocese of Cincinnati and the Diocese of Cincinnati (1821) was created from Bardstown (1808), one could 'argue' that Toledo is an offshoot of the original diocese of Bardstown," Father Hammer wrote in an email.
"Not many auxiliary bishops get a titular see, which is a living parish," Bishop Thomas said, and the people in Bardstown "have been a delight. I'll never abandon them, but the day that I sit into the chair of the cathedral of Toledo, I give up the see of Bardstown."
Today's 5 p.m. service is open to the public. The cathedral will be full Wednesday, but the 2 p.m. ceremony will be broadcast live on WTVG-TV, Channel 13; WTOL-TV, Channel 11; EWTN (Buckeye CableSystem channel 179); Annunciation Radio (89.7 FM); Holy Family Radio (88.9 FM), and as a live stream at toledodiocese.org.
Contact TK Barger @ tkbarger@theblade.com, 419-724-6278 or on Twitter @TK_Barger.
Guidelines: Please keep your comments smart and civil. Don't attack other readers personally, and keep your language decent. Comments that violate these standards, or our privacy statement or visitor's agreement, are subject to being removed and commenters are subject to being banned. To post comments, you must be a registered user on toledoblade.com. To find out more, please visit the FAQ.