41.67207
-83.55524
Prayer service held for installation of Toledo's eighth bishop.
The Most Rev. Daniel Thomas delivers his homily during an evening prayer service at Rosary Cathedral a day before he is installed. At Tuesday's service, he said he would follow Pope Francis' instructions to bishops to 'build and to love.'
The Blade/Katie Rausch
Enlarge | Buy This Image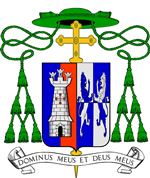 This will be the coat of arms for the Most Rev. Daniel Thomas, who becomes the 8th bishop of the Diocese of Toledo after today's service.
The Diocese of Toledo in America will once again have a bishop, the eighth diocesan bishop in its history, when the Most Rev. Daniel Thomas is formally installed in the cathedra, or bishop's chair, at Our Lady, Queen of the Most Holy Rosary Cathedral today.
At a Tuesday evening prayer service attended by nine bishops and archbishops, Bishop Thomas chose the New Testament's first epistle of John for his first words from his cathedral pulpit: "See what love the Father has bestowed on us, in letting us be called the children of God."
PHOTO GALLERY: Bishop Thomas at Rosary Cathedral prayer service
RELATED: Bishop Thomas' homily from the prayer service at Most holy Rosary Cathedral
He asserted that he "comes to become the father of the family of faith of the Diocese of Toledo [and] this is a daunting task."
Bishop Thomas, who has been serving as auxiliary bishop of the Archdiocese of Philadelphia, succeeds Archbishop Leonard P. Blair, who in December, 2013, was installed as archbishop of Hartford in Connecticut.
He asked for prayers and made some pledges: "to love you with every fiber of my being, to hold you daily close in prayer, to teach, govern, and sanctify as the Father would have me do in Jesus."
He said he will "strive to love you" in the way of "every good father."
The Most Rev. Daniel Thomas, center, bows his head during an evening prayer service at Rosary Cathedral. Several hundred witnessed Bishop Thomas serve as celebrant and homilist for the evening service on Tuesday.
The Blade/Katie Rausch
Enlarge | Buy This Image
For religious professionals "and all the lay faithful," he promised "to see each of you first as a child of God," and he prayed they would see him that way.
Bishop Thomas said that "our spiritual lives are to give us a spiritual resemblance. As one family, children of the Father."
And he vowed, as Pope Francis asked bishops to do, to "use my energy 'to build and to love.' "
Among the attendees at the prayer service were three Sisters of the Visitation, a West Toledo monastery where the nuns do not usually go out in public. Sister Sharon Elizabeth, who was with sisters Maria Gabriela and Marie Bernadette, said that Bishop Thomas is "God's gift. He's chosen him for us."
Bishop Thomas visited the monastery in August, the day his appointment to the Toledo Diocese was announced.
Installation for Bishop Daniel Thomas
as Eighth Bishop of Toledo
2 p.m. today, Our Lady Queen of the Most Holy Rosary Cathedral, 2535 Collingwood Blvd.
IF YOU GO
The cathedral is expected to be at capacity, and tickets are required for admission into the cathedral. Doors open at noon for ticket holders.
The diocese does not encourage the general public to go to the cathedral. However, members of the public who do not have tickets do have the opportunity to attend. They are asked to line up outside the cathedral on the Islington Street side.
At about 1:30 p.m., ushers will escort people to open seats or very limited standing-room-only positions. There will not be an overflow remote viewing area for those who are not admitted to the cathedral.
Parking will be very limited.



IF YOU TUNE IN: Live at 2 p.m.

Television:
WTOL-TV, channel 11, Hosted by Jerry Anderson, commentary by the Rev. Gregory Hite
WTVG-TV, channel 13, Hosted by Lee Conklin, commentary by Msgr. Charles Singler
EWTN, Buckey channel 179, Aired with no commentary
Radio:
Annunciation Radio, 89.7 FM, and

Holy Family Radio, 88.9 FM

Commentary by Deacon Scott Woods on both stations
Internet:
Livestream at
www.toledodiocese.org
U.S. Army Chaplain David Kirk flew from Fort Lee, Va., to be at Bishop Thomas' installation. Though he is "on loan" to the Archdiocese of the Military, he is a priest of the Toledo diocese.
The Rev. Timothy Philabaum, pastor of Zoar Lutheran Church in Perrysburg, also attended. He said that Bishop Thomas "comes across as a man who's interested in the poor and community action and just love with the community, and so it's a wonderful new, another way to experience connection."
After Tuesday's service, the Rev. Jeff Walker, parochial vicar of St. Rose of Lima in Perrysburg and who recently marked his first anniversary as a priest — ordained by Bishop Blair — said, "Every priest makes a promise of obedience to the bishop and his successors. ... I didn't realize the 'and successor' part would come so soon," he said.
"I'm so glad to hear [Bishop Thomas] talk about being the father of the family of faith. That really speaks to my priesthood, as well."
Bishop Thomas will be installed at 2 p.m. today at the cathedral, 2535 Collingwood Blvd. Tickets are needed for admission. The ceremony will be aired on WTVG-TV, Channel 13; WTOL-TV, Channel 11; EWTN, Buckeye CableSystem channel 179; Annunciation 89.7 FM and Holy Family 88.9 FM radio, and toledodiocese.org.
Contact TK Barger @ tkbarger@theblade.com, 419-724-6278 or on Twitter @TK_Barger.
Guidelines: Please keep your comments smart and civil. Don't attack other readers personally, and keep your language decent. Comments that violate these standards, or our privacy statement or visitor's agreement, are subject to being removed and commenters are subject to being banned. To post comments, you must be a registered user on toledoblade.com. To find out more, please visit the FAQ.