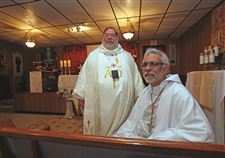 Archbishops Marcis Heckman and José Israel de la Trinidad inside the Holy Cross Reformed Catholic Church.
The Blade/Jetta Fraser
Enlarge | Buy This Image
The Reformed Catholic Church's (RCC) global headquarters in North Toledo is far removed from the Vatican in many ways.
A building that once was the home of Community Church of God, at the corner of Doyle Street and Ketcham Avenue, is now the Holy Cross Reformed Catholic Church, where the RCC is centered. That is also where Metropolitan Archbishop Marc Ignatius Stephen Heckman, who uses the first name Marcis, lives.
The RCC, incorporated in 2000, is a "fifth pillar" of Catholicism, Archbishop Heckman said. "We consider ourselves different because we're made up of the Old Catholic movement [centered in Utrecht, Netherlands], the independent Catholic movement, the Orthodox movement, even the Roman movement, so we're separate in that aspect."
For the past eight months, Archbishop Jose Israel de la Trinidad also was there after he moved from Puerto Rico, but he recently established a new Toledo residence for his religious order, the Reformed Carmelites. Archbishop Heckman is a Reformed Jesuit; there are RCC versions of several religious orders with Roman Catholic traditions.
Archbishop Trinidad is also principal of the Academy for Educational Excellence, a public charter school on Heatherdowns Boulevard that is "Christian oriented, although it's not a Christian school," he said. The academy currently has students in kindergarten through grade 5. There, the principal is known as Israel Irizarry-Koppisch, or Mr. Koppisch. He took Trinidad as his religious name. Irizarry-Koppisch is his last name in Hispanic construction, with his father's last name followed by a hyphen and his mother's last name.
Archbishop Trinidad, 61, moved to Toledo as part of the RCC's own reform. The Church recently consolidated its North American dioceses into one archdiocese, and Archbishop Heckman, 56, who had held the offices of both metropolitan (head of the Church) and U.S. presiding bishop since 2012, made Archbishop Trinidad the presiding bishop of the U.S. Archbishop Heckman's Church work is done as a volunteer, he said; "I am disabled, so I don't get to do a whole lot of work," and as he considers himself "semi-retired," he appointed Archbishop Trinidad to lead the U.S. Church while he focuses on the RCC around the world.
There are RCC congregations on the African continent, in the Philippines, in Europe, and in Central and South America. In the U.S., congregations are in about eight states and Puerto Rico, with parishes forming in other states.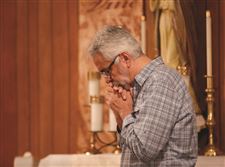 Archbishop José Israel de la Trinidad prays during a service.
The Blade/Jetta Fraser
Enlarge | Buy This Image
Holy Cross, in Toledo, has 20 to 30 members, Archbishop Heckman said, "but you don't get that many here. We're lucky to get 12 in the pews most of the time; I admit that." But the church is full on Christmas Eve, he said — Holy Cross will have a lessons and carols service at 8 p.m. and a midnight Mass.
"I love when we get visitors off the street. They just come through the neighborhood, come in and sit, and they're kind of shocked. They don't know what a Reformed Catholic Church is, so they'll come in and take a look."
While it has a largely traditional Catholic worship ritual, the RCC's current work also emphasizes work outside the sanctuary, such as feeding the hungry—"working with the people without food, not homeless; it's the people without," Archbishop Trinidad said — and helping the sick and dying to have dignity in their struggles.
"I've been in different countries as a missionary," Archbishop Trinidad said, "and we really can touch hearts, which is really the important part of us as pastors and ministers. ... If we can do that, I'm not here to judge; I'm just here to help."
What solidly sets the RCC apart from Rome is its professed openness to all.
"It's quite interesting with the Roman Church with us. They would accept us," Archbishop Heckman said, except for the RCC's welcome to women as priests. "They can handle that we give the eucharist to those that are divorced. They can handle that we give the eucharist to [gays, lesbians, bisexuals, and transgender people]. They can handle the fact that we have married priests. They can handle the fact that we have gay priests. They cannot handle the issue that we have women priests. Boom. That's the cutoff point. As soon as it comes to the women, nothing."
The present number of women priests in the RCC can be counted on one hand, but the Church is seeking new clergy, preferring to train their own, though they have an "incardination" process for priests transferring from other churches.
"That's the basic thing that probably makes us different, that we do accept women in our clergy," Archbishop Trinidad said, "and they're working really good."
The Rev. Beverly Bingle, who was ordained by Roman Catholic Womenpriests in 2013, is not a member of the RCC, although she lives near the Toledo church and has presided at Mass there at times. "She always knows that she is welcome here," Archbishop Heckman said.
Rev. Bingle said, "I'm Roman Catholic. That's my tradition and my baptism, and I don't see any reason to be something else, to practice something else."
She continued, "When the church does the wrong thing, you follow your conscience and you stay in it; you don't leave." So she was ordained a Roman Catholic priest by a Roman Catholic dissident group.
The RCC has gone its own way, but it carries a papal blessing — in essence, a pledge of non-interference — in a declaration from Pope John Paul II in 2000 that says "separated" churches that conitnue to have bishops who can trace their religious lineage to Peter, whom it was said Jesus blessed to start the Church, and also have a "valid" eucharist or communion, remain "true particular Churches."
The RCC has that succession of bishops and the eucharist, though its communion is open to all — including divorcees, non-Catholics, and others barred by the Roman Catholic Church.
Contact TK Barger @ tkbarger@theblade.com, 419-724-6278 or on Twitter @TK_Barger.
Guidelines: Please keep your comments smart and civil. Don't attack other readers personally, and keep your language decent. Comments that violate these standards, or our privacy statement or visitor's agreement, are subject to being removed and commenters are subject to being banned. To post comments, you must be a registered user on toledoblade.com. To find out more, please visit the FAQ.