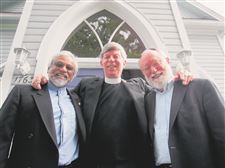 Imam Jamal Rahman, the Rev. Don Mackenzie, and Rabbi Ted Falcon will give five talks in northwest Ohio on Nov. 7 and 8.
Ruth Neuwald Falcon Enlarge
Rabbi Ted Falcon, the Rev. Don Mackenzie, and Imam Jamal Rahman have acted out a classic comic setup a few times in real life.
"We walk into a bar," Rabbi Falcon said about the rabbi, pastor, and imam. "We order two martinis and a root beer." The three men laughed while talking to The Blade by phone.
What has the reaction been to that setup? "Lots of good humor," Pastor Mackenzie said.
Imam Rahman added, "I think, wherever we go, what is most distinctive is that people perceive that we have an authentic friendship. … We have actually been getting together, sometimes even twice a week, over 14 years — so much so that we are genuine friends, and people can sense that whether we walk into a bar or are speaking to a large group of people."
They get together to talk about interfaith relations, a friendship that began in Seattle after Sept. 11, 2001.
The rabbi founded a meditative Reform synagogue in Seattle and has other religion-related activities. The imam is a Muslim Sufi minister at the Interfaith Community Sanctuary in Seattle and has other religious work. When they began, Pastor Mackenzie was minister at the University Congregational United Church of Christ; he retired in 2008 and moved to Minneapolis. The three men travel together to raise multifaith awareness, and recently gave two presentations at the Parliament of World Religions in Salt Lake City.
The true friends speak as the Interfaith Amigos, and there will be five opportunities to take in their message of how people of different faiths can coexist in northwest Ohio, on Nov. 7 and 8.
"We do a couple things that are somewhat different" in their interfaith approach, Rabbi Falcon said.
"We don't shy away from difficult issues," Imam Rahman said. "As my brothers will attest, we are very happy to talk about the four areas where religions go astray, namely exclusivity, violence, unequal status of women, homophobia. And we encourage conversations — and divisive conversations about that, as long as it's done in a civil way — and interact, and really go deep into that."
"We've also found that what often Abrahamic interfaith projects shy away from is any talk about Israel and Palestine," Rabbi Falcon said.
"That's right," the imam agreed.
"And we seek to model a way of dealing, even with those issues, in a way that can promote healing," Rabbi Falcon added.
Imam Rahman, Pastor Mackenzie, and Rabbi Falcon visit Al-Aqsa Mosque in Jerusalem.
Pastor Mackenzie said, "We don't propose to be the only people who know anything about interfaith. [But] as Ted and Jamal have said, we have discovered some things that as far as we know are as yet unique in the critical thinking that needs to be applied to interfaith dialogue."
"Like looking at the parts of our traditions that make interfaith dialogue challenging," Rabbi Falcon said. "Each of our traditions has those, which are normally not talked about."
The "amigos" label was given to them for a cover story in 2008 in the magazine the Christian Century. They started using it themselves, but "we started to get pushback," the rabbi said. There was a boycott of them at a Seattle University appearance because of perceived disrespect of Hispanic people, and they were disinvited from a program at Oregon State University.
But "we like the term amigos because somehow it has a warmth that the English word friends doesn't have — plus friends is associated, in terms of the faith movement, with the Quakers," Rabbi Falcon said. "The best we could do is say we just think there is something in that word that describes the relationship far better than any word in English."
Pastor Mackenzie said, "It's a challenge within which we move. One could think we were thoughtlessly usurping a treasure from another tradition, and yet, as Ted said, we use it with gratitude because it has such wonderful warmth and vitality. ... We hear and, I think, understand any objections.
"It's a similar situation in terms of a challenge to the fact that we're all three men," the pastor said. "The challenge is to keep a feminine sensibility front and center in our speaking and our thinking and so forth, and a balance between masculine and feminine ways of understanding experience."
The trio published books in 2009 and 2011, and they have a new title due in February, Finding Peace Through Spiritual Practice: The Interfaith Amigos' Guide to Personal, Social, and Environmental Healing. All are published by Skylight Paths.
"The idea is to move toward specific spiritual practices which can help us heal in those areas," Rabbi Falcon said, "and so we're presenting practices from each of our traditions."
The Interfaith Amigos will speak on "Promises and Problems of Interfaith Dialogue" at 4 p.m. Nov. 7 at Sylvania United Church of Christ, 7240 Erie St., Sylvania, with $15 admission and students free with ID. Tickets can be purchased at the door.
The four events on Nov. 8 are all free. Pastor Mackenzie, Rabbi Falcon, and Imam Rahman will give a shared sermon, "The Golden Rule and Compassion in Three Faiths," at both the 8:30 and 10:40 a.m. services at Sylvania UCC, and at 9:20 at the church between the services they will have "An Informal Conversation with the Interfaith Amigos."
At 2 p.m. at the Radisson Hotel at the University of Toledo, 3100 Glendale Ave., the trio will lead the annual Jewish-Christian-Muslim Dialogue for the university's Center for Religious Understanding, presenting "The Practice of Effective Interfaith Dialogue, an Experiential Workshop," which, Rabbi Falcon said, "is an invitation for people to share aspects of their life story" in mixed-faith groups.
"Our goal is always to learn as much as we teach, and so far we've been very fortunate in that," Rabbi Falcon said. "We don't consider ourselves experts coming to tell people what they don't know; we consider ourselves representatives of a process, coming to learn together."
Contact TK Barger @ tkbarger@theblade.com, 419-724-6278 or on Twitter @TK_Barger.
Guidelines: Please keep your comments smart and civil. Don't attack other readers personally, and keep your language decent. Comments that violate these standards, or our privacy statement or visitor's agreement, are subject to being removed and commenters are subject to being banned. To post comments, you must be a registered user on toledoblade.com. To find out more, please visit the FAQ.