Rev. Lee Williams, chaplain at St. Luke's Hospital in Maumee, prays with Jim Phister in his hospital room after a knee replacement.
The Blade/Dave Zapotosky
Enlarge | Buy This Image
Is it possible to pray away pain or illness? To restore the mind and body by focusing on the spirit?
Religion and health have become close companions over the centuries. Rather than faith healing being only related to the miracle of a divine cure, people are finding that spirituality along with medical care provides for better results throughout life.
Dr. Samina Hasan, a family physician in Sylvania, said that as a doctor, "You're helping not only the human body but you're also helping the human spirit and the soul."
"My patients who have a faith are hopeful, so even in the midst of illness they have an expectation that things will get better," said Dr. Mark Wentz, a family physician who practices with Dr. Hasan. Dr. Wentz is also an ordained minister, the pastor of Grace Evangelical Lutheran Church in Elmore.
"The vast majority of the people that I see have some spiritual belief. It seems to be a source of strength and associated with better mental outcomes," said Dr. Marijo Tamburrino, chairman of the department of psychiatry at the University of Toledo College of Medicine, formerly the Medical College of Ohio.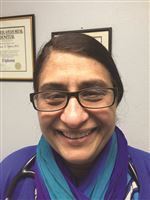 Dr. Samina Hasan
What is healing?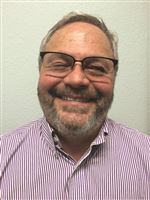 Rev. Dr. Mark Wentz
Forty years ago Sister Karen Zielinski, a Sylvania Franciscan, was diagnosed with multiple sclerosis. "I was a young sister, not even [in] final vows, and I just thought I had a crushed nerve or something," she said. "And it ended up that it was MS.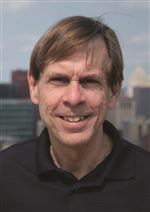 Steven Salt
"I started praying a little differently when I was in the hospital. I prayed, 'God, heal me,' but I didn't know all the implications, the wisdom of the life experience of living with a chronic disease. You don't wake up and it goes away," Sister Karen said. "Anything's chronic; aging is chronic, hearing and eysight, so that really changed me."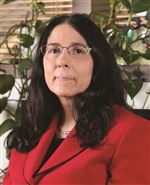 Dr. Marijo Tamburrino
Sister Karen, the author of Hope and Help for Living with Illness, said that about a year ago, she prayed to walk better. She uses a motorized scooter for her mobility. She asked her doctor to prescribe physical therapy, and she said she hasn't missed a day since she began. "I see that as a healing, but you have to do your part, too. … I noticed at home I could stand longer when I transferred [to and from the scooter]. A lot of things worked better, so that was a healing."
Kenneth Pargament
"We're so much bigger than what physicality represents," said Steven Salt of Columbus, a Christian Science practitioner. He said that Christian Scientists' approach to health care "is really up to them how they want to handle it, but prayer is natural to them."
Most Christian Scientists seek spiritually oriented healing through the prayer of practitioners rather than going to doctors, and the practitioner is "listening to God for answers to what the specific problem is," Mr. Salt said.
"Our creator, our God, heals in ways we don't even know," said Sister Karen, who believes people can be healed in some ways while suffering chronic poor health. "I think it's a healing if somebody knows how to change an ileostomy bag. I think it's healing if somebody who always hated needles has to self-inject for diabetes.
"A healing might be that they're able to handle or deal with their disease and take care of it."
Death can be a type of healing, too, Dr. Hasan said.
"Healing might mean 'live forever in an eternal life' with comfort, with no pain … liberated from this coffin that our souls are within."
Physicians and ministers agree that even those with the greatest faith are subject to physical frailties.
"I had a patient here who was a man of faith," said the Rev. Lee Williams, the chaplain at St. Luke's Hospital in Maumee and the pastor of Maumee's Search-Lite Community Church. "He had to have open heart surgery. … He said, 'I'm really surprised that this heart attack caused me to have open-heart,' and I said, 'If you weren't a man of spirit and you didn't take care of yourself, that heart attack would have probably killed you, but the fact is you survived it and you have even more years.'"
Spiritual effects
"We're starting to see the emergence of a whole science of spirituality," said Kenneth Pargament, an emeritus professor of psychology at Bowling Green State University who is also a clinical psychologist. He is the editor-in-chief of the American Psychological Association's APA Handbook of Psychology, Religion, and Spirituality.
Christian Scientist Steven Salt said that Dr. Harold Koenig, director of the Center for Spirituality, Theology and Health at Duke University, "accumulated all of the studies done in the last 30 years, most of which have been done in the last decade or so, dealing with health and spirituality, and has come up with some pretty interesting statistics."
Pastor Williams said, "Statistically, Duke University says if you're a person of spirit, you're more likely to have better health, better recovery, better results from surgical procedures, better outcome even in end-of-life situations."
"Actually, whether spirituality and religion are good for your mental health or your [physical] health depends," Mr. Pargament said. "'Is religion good for your health?' That's like saying 'Is medicine good for your health?' It depends what kind of medicine are we talking about. … It seems pretty clear that some forms of religious expression can be really healthy and some can be destructive.
"It makes a big difference whether the god you relate to is a loving, caring, all-inclusive god or a god who's unpredictable, mean, punishing, abandoning, narrow," Mr. Pargament said.
"'How has God abandoned me?' Sometimes you see that," Dr. Tamburrino said. "There's a term called post-traumatic growth, and that's where spirituality can really come in and help integrate the negative experiences into your life so that you come out of it with meaning and coherence."
Religion practice
"Religiosity, according to some definitions, has to do with the actual practice," said Dr. Tamburrino. "Like how often you attend synagogue or the church or the mosque. And then spirituality is more that general feeling of purpose and meaning in life connected to something higher than oneself."
"As far as myself as a Muslim, people have this concept about Islam that it's a religion, and, you know, it is a way of life, really," said Dr. Hasan. "As far as a Muslim is concerned, religion is implementation of that faith and spirituality into practice."
"The difference between spiritual and religious, typically," said Dr. Wentz, "if you are religious you have a faith community, and in a time of illness or loss you get a lot of support from that community. I think that helps folks through the grieving process more than anything that we do."
Better health
One aspect of spirituality is to ease a person's anxiety, and that can contribute to better coping with health issues.
"I definitely believe that [faith] does cause relief of anxiety, and maybe the relief of anxiety causes the sympathetic [nervous] system to kind of set at ease," Dr. Hasan said. "The blood pressure drops, the heart rate gets better, the circulation improves."
"It looks like people who are more religious or spiritual generally have better control over their impulses — alcohol, drugs, extramarital affairs, anger," Mr. Pargament said. "People who are more religiously involved seem to have more sense of social support, social connection."
Dr. Tamburrino cited longevity studies on religious people. "If they're following their rules of their religion and they may not drink alcohol, they may not smoke, they may not use drugs, then they don't associate with others who have high risky behavior. … Some of it's pretty rational, and some of their health might be better."
Finding spirit
Experts say it's not uncommon for people whose faith has lapsed to find it again when they face illness.
Mr. Pargament said, "For some people, their faith is a tremendous resource that they've lost touch with." Depressed people might end their activities in religious congregations, he said. "It's not rocket science to suggest that people re-engage, not only with other social psychological resources, but to re-engage with their spiritual communities."
That can even apply to clergy, Mr. Pargament said. "I've worked with many pastors who I ask how's their faith involved with the way they're dealing with their illness, and sometimes you hear them say, 'Huh, I never thought of that.' Well, they've gotten disconnected from their faith, as well."
As a minister who is a doctor, Dr. Wentz said, "On a day-in and day-out basis, I encounter folks who are in need of faith, in need of hope, and it is my belief that that comes from God. So what I do [in the medical practice] is physical, but I think it has its roots in the creator. God created our bodies to work this way, and our job is to get out of the way and let God do that.
"What I do the rest of the week [as a pastor] is spiritual, but again, if people are spiritually ill, I'm going to see it here in my [doctor's] office. For me, the three things — mind, body, and spirit — they are the trinity. They are interconnected, and if one is out of balance the others are out of balance."
"I tell Mark this all the time," Dr. Hasan said. "This is our ministry, and this [doctor's office] is my church. This is where I am the priest and a medium for healing. I'm not a healer, because the healer is him, the creator. ... He gives me the knowledge, and that is what I implement in my everyday life, even when I'm approaching my patients."
"I like to think of God as love," Mr. Salt said. "Mankind is the recipient of that love, and as we cycle that love, as we give out what God is giving us in love, then it can certainly benefit in providing us with a much more permanent sense of health and wellness."
Contact TK Barger @ tkbarger@theblade.com, 419-724-6278 or on Twitter @TK_Barger.
Guidelines: Please keep your comments smart and civil. Don't attack other readers personally, and keep your language decent. Comments that violate these standards, or our privacy statement or visitor's agreement, are subject to being removed and commenters are subject to being banned. To post comments, you must be a registered user on toledoblade.com. To find out more, please visit the FAQ.