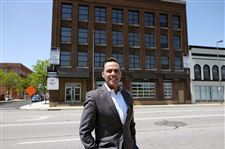 Cornerstone Church Bishop Michael Pitts stands outside the Event Center, which the church is buying in order to establish a downtown Toledo location near Hensville.
The Blade/JETTA FRASER
Enlarge | Buy This Image
Cornerstone Church is expanding again, this time planning to add a downtown campus to its worship centers with the purchase and renovation of a building next to Hensville.
Bishop Michael Pitts, Cornerstone's founder and religious leader, revealed "the Legacy Project" during an interview with The Blade.
The project calls for acquiring and renovating the building at 23 N. Summit St., the current location of the Event Center, to be a space that will combine the church, commercial uses, and residential lofts.
Cornerstone has offered $1.495 million to buy the property at the corner of Summit and Perry streets, which it will rename the Summit Building, and it plans to spend an additional $2.5 million to develop the space, making this a $4 million project.
Funds are "coming from our coffers, but we're going to finance some of it," Bishop Pitts said. "We're going to be closing on it in July."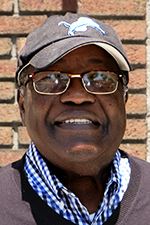 Jones
Jerry Jones, the chairman and founder of Woodlands Consulting Group and a member of the year-old 22nd Century Committee, a public-private partnership of area leaders aiming to revitalize downtown Toledo, said the committee was interested in having another church downtown. Mr. Jones is also a member of Cornerstone Church, and an adviser to Bishop Pitts.
Committee members were "looking at wanting something like this downtown where people can worship and just come in and be churched," Mr. Jones said, "because that area downtown is unchurched. So it's exciting."
"To me," Bishop Pitts said, "to have a church in the heart of the city with a heart for the city is a great thing."
"Probably 90 percent of the churches that you would think could [establish a new church downtown] couldn't do it," Mr. Jones said. "I knew that [Bishop Pitts] would have a vision, and it's not just because I'm a member there but because I've known him long enough that I know where his heart is — and he would rally the parishioners behind it."
Cornerstone will have Sunday afternoon services at its new downtown church, with Bishop Pitts as the main preacher.
"It'll be a full running campus," like Cornerstone's main location in Maumee, the Eastwood campus in East Toledo, and Cornerstone's regional locations in Lima and in Wayne, Mich.
A 400-seat auditorium for the Sunday services will be on the main floor.
The Event Center, the current business at 23 N. Summit St., is a banquet facility, used for wedding receptions and other gatherings. When Cornerstone is not using the space for religious purposes, the first floor will be available for banquets and other meetings, Bishop Pitts said.
The second floor will have offices, set up for short-term use of shared space by businesses and individuals. The second story will be used for classrooms and children's religious education.
The third and fourth stories will be converted to loft-style apartments, six units per floor.
"We're just initiating" the Legacy Project, the bishop said, "but we're going to begin work on [the Summit Building] immediately. Probably we'll launch it sometime in 2017. That way, it'll give us a little bit of time to get it right."
Bishop Pitts hopes to attract young urban professionals and their families, most of whom will be living downtown, to Cornerstone's new location.
"We've been doing the demographics on it, and actually a lot of those have been provided through the 22nd Century [Committee]. They've done a lot of the homework," he said. "There's going to be so many young and professional people, young professionals and management, leadership, professional people."
"I'm doing this for the city and for the 22nd Century Committee," Mr. Jones said. "We can show that there is something that is jumping off here, and there is a church that is willing to take a risk and to step out and say, 'we want to be a part of what is happening downtown.'"
Bishop Pitts said, "My biggest dream for this is to see the church services filled with people that would not have been in church had there not been a building there. In my mind, people may be moving here from other places to work at ProMedica [which is relocating its headquarters to downtown], not knowing that on this end of it God is already preparing a place for them."
Bishop Pitts said the new downtown church is exciting because the 22nd Century Committee's plans are "to put together total living experiences down here, where they want people to be able to shop, have grocery stores. ... That makes sense to me, that people need a church to be at. They're going to raise their kids here; there's going to be enough people even within walking distance to reach and to educate and to help."
Downtown locations are also places where people with other needs, such as those needing food and shelter, congregate.
"I don't want to be inartful in the way I say this," Bishop Pitts said. "I think between Cherry Street Mission and people like St. Paul's [Lutheran Church], I think that base is covered. I think what is not covered in downtown is a progressive-thinking church that challenges young professionals."
He added that Cornerstone has active partnerships with Cherry Street Mission, the Martin Luther King Kitchen for the Poor, Mom's House, and other organizations that help people with needs that include poverty, hunger, and housing.
If other congregants than young professionals attend the downtown Cornerstone Church, Bishop Pitts said, "For 30 years my statement is always 'You preach to whoever shows up.' That's who I'm preaching to, whoever shows up."
He said that the Legacy Project "doesn't keep us from running the feeding program [for students during the summer] on the east side, doesn't keep us from opening the Navarre Pool, doesn't keep us from doing any of our outreaches."
Cornerstone's other religious work will continue, locally and globally. Bishop Pitts also is in charge of the Cornerstone Global Network of more than 100 churches and ministries in Mexico and South Africa.
"What's interesting," Bishop Pitts said, "as we're starting on this project, the church actually started our first Sunday morning service in June 30 years ago, in a storefront."
Contact TK Barger @ tkbarger@theblade.com, 419-724-6278 or on Twitter @TK_Barger.
Guidelines: Please keep your comments smart and civil. Don't attack other readers personally, and keep your language decent. Comments that violate these standards, or our privacy statement or visitor's agreement, are subject to being removed and commenters are subject to being banned. To post comments, you must be a registered user on toledoblade.com. To find out more, please visit the FAQ.