Attendees at a Sunday afternoon worship service commemorating the Rev. Martin Luther King, Jr., received a warning against simply doing good.
Bishop Robert Culp of the First Church of God in Toledo delivered the sermon at the fourth-annual multichurch service at the First Presbyterian Church of Maumee. He cautioned the approximately 60 attendees against complacency, saying it's "a human tendency to say it's good enough, and that I'm satisfied."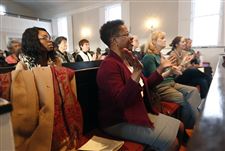 Rev. Ruby Radford, from Cass Road Baptist Church in Maumee, applauds a performance during a commemoration worship service to honor Dr. Martin Luther King Jr. at First Presbyterian Church on January 14, 2018.
The Blade/Amy E. Voigt
Enlarge | Buy This Image
"The problem is that good is the enemy of greatness," he said. "Few people attain great lives, because it's so easy to settle for a good life."
People need to stay flexible, adapting to change and always continuing to seek something better.
"You have to keep your dreams about tomorrow more exciting than your memories of yesterday," the bishop said. "When your memories are more exciting than your dreams, you're on your way to the graveyard."
Before the service, the Rev. Clint Tolbert, pastor of First Presbyterian, noted Reverend King's message of peace and equality during the Civil Rights Movement decades ago is as applicable today as it was then.
"We're living in a world that seems to be becoming more and more polarized," he said. "Developing relationships, developing friendships, developing trust takes time. This is just a small step in the building of those trusting relationships and friendships. We need to do that in the church, and the church hopefully can model that for the world around us."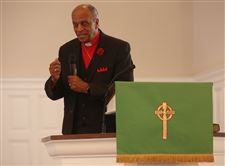 Bishop Robert Culp, of First Church Of God, gives the sermon during a commemoration worship service to honor Dr. Martin Luther King Jr. at First Presbyterian Church.
The Blade/Amy E. Voigt
Enlarge | Buy This Image
The combined service included eight area churches of varying denominations. The Rev. Lee Williams, who leads Search-Lite Community Church that shares First Presbyterian's building, said the United States is in crisis with growing divisions when it should be a leader in the acceptance of differences.
"Our country being the leader of the free world, people are looking to us to give an example of what it is to give freedom for your tired, your hungry, your humble masses. We have to live up to that," he said. "You have to do that not by your talk, but by your walk."
On Friday, Temple Shomer Emunim in Sylvania Township held its annual Shabbat service in honor of Reverend King. Rabbi Sam Weinstein said Reverend King's message ties in seamlessly with the Jewish faith.
"He dreamed of an American free of hatred and prejudice, intolerance, and injustice," the rabbi said. "Those really are the goals of what Judaism is about as well."
He said the American people still have yet to live up to Reverend King's vision.
"We have a country that is still divisive and harbors prejudice," Rabbi Weinstein said. "The ultimate dream of Dr. King was that every person here should feel at home and at one with other Americans. That message is as relative today as the day it was spoken."
Contact Alexandra Mester amester@theblade.com, 419-724-6066, or on Twitter @AlexMesterBlade.
Guidelines: Please keep your comments smart and civil. Don't attack other readers personally, and keep your language decent. Comments that violate these standards, or our privacy statement or visitor's agreement, are subject to being removed and commenters are subject to being banned. To post comments, you must be a registered user on toledoblade.com. To find out more, please visit the FAQ.