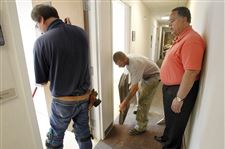 Gary Johnson, who started American Floors & Interiors, supervises his employees Daniel Vasquez, left, and Michael Johnson, right, as they work to put in carpet in the Collier Building on the University of Toledo's Health Sciences Campus.
THE BLADE/AMY E. VOIGT
Enlarge | Buy This Image
As a small business owner, all Gary Johnson ever wanted was a chance to help his tiny company succeed.
"The first couple of years we were losing money," Mr. Johnson recalled.
But in 2008, his American Floors & Interiors, located at 305 Morris St., finally caught its much-needed break. The University of Toledo was starting a Minority Business Development Center and UT Vice President for External Affairs Larry Burns asked Mr. Johnson if he would assist him.
Mr. Burns introduced Mr. Johnson to university facilities management officials, who gave American Floors a flooring contract worth nearly $30,000.
That resulted in more jobs, and eventually led to American Floors being named this month as the 11th fastest-growing inner city business, according to the nonprofit Initiative for a Competitive Inner City and Fortune magazine.
In announcing their 2014 Inner City 100 award winners, ICIC and Fortune not only ranked American Floors 11th overall on its top 100 list of inner city companies, it was first in the construction industry category with a three-year growth rate of 567 percent and 2013 revenues of $3.8 million.
The top 100 were chosen from 1,000 nominees, and awards were presented Oct. 16-17 in Boston. American Floors was nominated by Goldman Sachs' 10,000 Small Businesses, a three-month business training program that Mr. Johnson attended in Cleveland in 2012.
"We knew that we made the list of 100, which I was pretty excited about to begin with," Mr. Johnson said. "But I didn't know until that night in Boston that we were the top firm in inner city construction. And I had no idea we would come in at No. 11 overall," he added.
ICIC, a national nonprofit founded in 1994 by Harvard Business School professor Michael Porter, promotes urban businesses through research and leadership programs. ICIC and Fortune began their annual Inner City 100 list 16 years ago to recognize inner city businesses and their CEOs. The 2014 winners were from 53 cities and 23 states and had an average growth rate of 336 percent between 2009 and 2013.
"I think most people never give any thought to inner city companies and the impact they can have on economic development," Mr. Johnson said. Had it not been for the University of Toledo, American Floors, which began with three employees and now has 25, might not have survived.
After that first contract, the university gave American Floors a $50,000 job. Soon, Mr. Johnson said, he was able to land jobs with area contractors. American Floors still does work for the university, but its client list has expanded to include ProMedica, Mercy, Bowling Green State University, and several state institutions.
Mr. Johnson said he hopes winning an Inner City 100 award will give American Floors more exposure and growth. It also confirms that the business formula he has been using works.
"We have three things we do to ensure quality — exceeding customers expectations from a service standpoint, making sure everything we do is a total quality job, and giving back to the community and exceeding the expectations of the community as far as our company is concerned," he said.
Giving back to the community, Mr. Johnson said, means getting involved. He is active with local organizations and diversity boards, and is a Lucas County auxiliary sheriff's deputy.
He plans to run for Toledo City Council next year. He also encourages his employees to be active in the community, he added.
Contact Jon Chavez at: jchavez@theblade.com or 419-724-6128.
Guidelines: Please keep your comments smart and civil. Don't attack other readers personally, and keep your language decent. Comments that violate these standards, or our privacy statement or visitor's agreement, are subject to being removed and commenters are subject to being banned. To post comments, you must be a registered user on toledoblade.com. To find out more, please visit the FAQ.