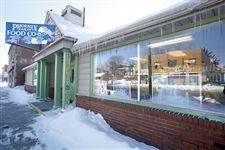 The Sylvania Avenue food co-op, which opened in 1992, is member-owned but is open to the public.
THE BLADE/AMY E. VOIGT
Enlarge | Buy This Image
The future of a West Toledo organic grocery cooperative is in doubt because of a lawsuit and counterclaim based on a decades-old, single-page, typewritten agreement.
If the suit against the Phoenix Earth Food Co-op, a West Sylvania Avenue mainstay for 22 years, is successful, the small shop will likely close.
"It could put us out of business. We will be bankrupt, essentially," said Hermann von Grafenstein, the co-op's secretary.
The co-op, at 1447 W. Sylvania, is being sued for $44,634.97, money the plaintiffs say is owed on a loan that originated in 1995.
The suit was filed by Howard Hershman in Lucas County Common Pleas Court in June on behalf of Deborah Zeigler, of Pompton Plains, N.J.; Katherine Jackson and Leslie Robinson, both of Seattle.
"It would be a real loss," Mr. von Grafenstein said of the business closing.
The co-op, formally known as Toledo Natural Food Cooperative Inc., opened in 1992.
A previous cooperative, Earth Food Co-op, closed in the early 1980s, said Helen Elden, a co-manager who has been with the Phoenix cooperative since it opened.
The co-op is represented by Toledo attorney Scott Ciolek.
The business is owned by its nearly 400 members — each member pays a one-time $72 fee, which also gets them discounts, and a share of equity. Although the store is owned by members, the shop is open to the public, Ms. Elden said.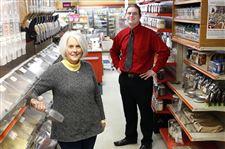 Leah Foley is co-general manager and Sean Nestor is board president of Phoenix Co-Op Food Co-op, a West Sylvania Avenue mainstay for 22 years.
THE BLADE/AMY E. VOIGT
Enlarge | Buy This Image
The original $40,000 loan was given July 1, 1995, by Robert Jackson, a former school board member, chairman of the University of Toledo's mathematics department, and general supporter of liberal causes.
In the contract, Mr. Jackson provided the interest-only loan at a rate of 7.2 percent, with a minimum payment of $240 a month.
The co-op made that payment each month until 2012, when board members interpreted a clause in the contract that they believe renders the agreement was voided when Mr. Jackson died in 1998.
Mr. Jackson's family members, who inherited the estate, claims that the co-op's interpretation of the contract is invalid and the loan must be repaid, either with a lump-sum payment of more than $44,000 or indefinitely, at the previously assigned interest rate, until the balance is repaid in full.
The disputed clause in the contract reads: "Neither this agreement nor any money due or to become due hereunder may be assigned by either party without the prior written consent of the other party."
When Mr. Jackson died, the loan was "assigned" — or payments were transferred to benefit his sister.
They were later reassigned to Mr. Jackson's daughter and two of his granddaughters, according to documents filed in court.
The cooperative did not sign off on either transfer, which is why, they say, the contract is null and void.
"Most of us never thought it would come to a lawsuit," Mr. von Grafenstein said.
A motion filed by Mr. Hershman on Dec. 10 disputes Mr. Ciolek's interpretation: "As badly drafted as the promissory note is, there is nothing within its four corners that suggests that it was the intention of the parties to the agreement that the obligation to repay would die along with the obligee."
The motion continues that the loan must be repaid because it was part of Mr. Jackson's estate, which became an asset of his heirs.
Mr. Ciolek filed a counter suit, suing Mr. Jackson's heirs for fraud and unjust enrichment.
The counter suit seeks $42,945, the total amount of monthly payments made after Mr. Jackson's death.
Mr. Ciolek expects Judge Gene Zmuda to make a judgment sometime this month.
Mr. Hershman did not respond to a message seeking comment.
Contact Taylor Dungjen at tdungjen@theblade.com, or 419-724-6054, or on Twitter @taylordungjen.
Guidelines: Please keep your comments smart and civil. Don't attack other readers personally, and keep your language decent. Comments that violate these standards, or our privacy statement or visitor's agreement, are subject to being removed and commenters are subject to being banned. To post comments, you must be a registered user on toledoblade.com. To find out more, please visit the FAQ.