Tony Packo's closed its location inside The Andersons' Talmadge Road store on Sunday, but on Monday it got great news — it has secured a new Maumee location.
The new Maumee Packo's will be in an as-yet unbuilt 8,000-square foot strip center in front of Meijer at 1391 Conant St.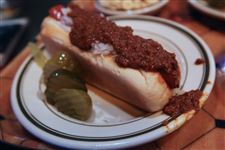 An original hot dog is served up at Tony Packo's. The local eatery plans to open a Maumee location in summer.
THE BLADE
Enlarge | Buy This Image
Jimmy Harmon, chief executive of Bennett Management Corp. and Tony Packo's, said the developer will provide Packo's with a 2,100-square-foot retail space in the strip center by Aug. 1.
The space will be on the end of the center to allow the iconic Toledo restaurant chain to have a drive-through window.
Mr. Harmon said he hopes to open the Maumee location by Labor Day. The company told The Blade in March it planned to have a Maumee location but would not disclose the site. A new Packo's location at 3348 Secor Rd. in West Toledo, also a drive-through, is expected to open by mid-June, he added.
The CEO said that Packo's will be seeking a third location in the area and expects to have it opened by year's end.
Mr. Harmon declined to identify a location or area that the company was considering.
Meanwhile, with the impending closing of The Andersons' general stores in Maumee and Toledo, the Packo's inside the Talmadge Road store wasn't worth keeping open.
However, the location inside The Andersons' Maumee store "is still doing OK," and Mr. Harmon said he plans to keep the Packo's location open until the store closes for good perhaps sometime during the first week of June.
The Andersons are exiting their retail operations and shutting the two Toledo-area and two Columbus-area general stores.
Contact Jon Chavez at: jchavez@theblade.com or 419-724-6128.
Guidelines: Please keep your comments smart and civil. Don't attack other readers personally, and keep your language decent. Comments that violate these standards, or our privacy statement or visitor's agreement, are subject to being removed and commenters are subject to being banned. To post comments, you must be a registered user on toledoblade.com. To find out more, please visit the FAQ.