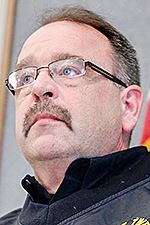 Hummer
THE BLADE
Enlarge | Buy This Image
The plan to establish a regional dispatching service for certain communities in northern Wood County remains on track.
Lake Township police Chief Mark Hummer, who spearheads the project, updated Rossford City Council last week and came away with what he was looking for: an expression of continuing interest.
"This is informational, to see if communities are on board and want to keep looking at it," he told council.
The city has contracted out its dispatching services to Lake Township for years and has been highly pleased. Rossford officials considered regionalism the wave of the future and believed it would make their dispatching more efficient and improve safety for area communities. "I think this is a great idea," Councilman Chuck Duricek said. Mr. Duricek died three days later, on Thanksgiving.
Fire Chief Jim Verbosky said the move to regionalism was sensible, and "if it's going to make our city and our northern Wood County better, I'm for it."
Northwood Administrator Bob Anderson, attending the Rossford council meeting, described the regional dispatching service as "a sound concept, but there are so many things to be ironed out.... If the cost doesn't make sense to the council and mayor, it's not going to happen."
The consortium of communities looking at the regional dispatching office includes Lake Township, Millbury, Northwood, Rossford, and Walbridge. If the plan becomes reality, they would become the dispatching service's council of governments, with each member represented by its elected chief executive. Another option would be a shared-services agreement with a particular community.
Talks have been under way since September, 2007, with meetings continuing in 2009, 2010, 2011, and 2012. The communities are within about five miles of each other and well-situated for a central dispatching office, Chief Hummer said.
Lake Township now dispatches for Walbridge and Millbury, so a form of regional dispatching already exists, he noted.
Last year, Lake received an $87,840 Ohio Department of Development grant to study and come up with a recommendation for the dispatching center.
It used the money to hire RCC Consultants Inc., a telecommunications engineering and consulting firm, to assess the needs and the best way to establish the center.
Chief Hummer said the state was planning for the next generation of dispatching services, which will use fiber-optic technology with connectivity among multiple networks and be able to take calls from a range of digital media including voice, text, photos, video, and data.
As an incentive to regionalize, however, Wood County's state funding would be cut in half if it has more than three dispatch centers by 2018. The county now has eight centers.
Chief Hummer identified the Lake and Northwood dispatch centers as the most promising current sites. Lake's facility, a former Ohio Highway Patrol Post, would cost an estimated $115,000 to be converted to a regional center; Northwood's cost would be $15,000 to $30,000, but future expansion for equipment could be limited.
Chief Hummer's timeline envisions an official authorization to proceed by the end of the year, with the formation of the council of governments by March, and the transition to the regional dispatching service by September.
Contact Carl Ryan at: carlryan@theblade.com or 419-724-6095.
Guidelines: Please keep your comments smart and civil. Don't attack other readers personally, and keep your language decent. Comments that violate these standards, or our privacy statement or visitor's agreement, are subject to being removed and commenters are subject to being banned. To post comments, you must be a registered user on toledoblade.com. To find out more, please visit the FAQ.