The extra point truly matters. That one point, following a touchdown, can be the difference between winning and losing the game. It could mean the difference between making it to a bowl game or staying home. College football coaches will tell you: one does matter. In fact, since 2000, there have been 200 NCAA BCS games decided by one point.
And for the 2017 season, those extra points will truly matter for those who have served our country, and are currently homeless.
Thanks to a new partnership between Huntington Bank and the University of Toledo, for every extra-point scored by the Rockets during the 2017 football season, Huntington will donate $100 to 1Matters to support their Veterans Matter program.
1Matters is a Toledo-based nonprofit sparked and supported by singer John Mellencamp. This organization creates and funds initiatives to move people to financial and domestic autonomy. Veterans Matter is the organization's national program designed to help homeless veterans and their families recapture their lives and return to domestic independence through the VA's long term housing program.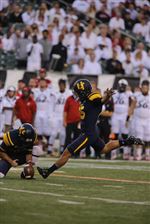 .
On average it takes $726 to help a veteran off the street and into a home. To date, Veterans Matter has housed more than 1,800 veterans in 17 states.
"Our mission is simple: house as many homeless veterans as we can, as fast as we can to provide the fresh start," says Veterans Matter founder Ken Leslie. "With this high-powered Rocket offense, and the support of Huntington, we can impact at least 10 more homeless veterans this season. One point really does matter."
And thus far, the Rockets are doing their part. Among the best in the country, the Rocket offense is piling up nearly 40 points per game. In fact, the offense is on pace to be one of the most prolific in the 100-year history of Toledo football.
"This is an exciting partnership that will benefit homeless veterans in our community and region," Huntington Regional President Sharon Speyer said. "The importance of an extra point, where one point can matter in the outcome of a tightly fought game, will now have a significant impact on the life of someone who served our country."
"We are very pleased to be teaming with Huntington Bank in support of such a great cause," said Toledo head coach Jason Candle. "It's a privilege to participate in something that helps many of the veterans who have served their country."
For more information about Veterans Matter please visit veteransmatter.org.
Guidelines: Please keep your comments smart and civil. Don't attack other readers personally, and keep your language decent. Comments that violate these standards, or our privacy statement or visitor's agreement, are subject to being removed and commenters are subject to being banned. To post comments, you must be a registered user on toledoblade.com. To find out more, please visit the FAQ.