Art therapy is on the rise in several professional settings. One of the recognized mental health professions, art therapy involves using art media and the creative process as a therapeutic and healing process for clients. Registered (ATR), Board Certified (ATR-BC) and Certified Supervisor Credential (ATCS) Art Therapists are practicing in rehabilitation, medical, mental health, educational, wellness, forensic and community settings.
In its mission to expand access of professional art therapists and lead the nation in the advancement of art therapy as a regulated mental health and human services profession, the American Art Therapy Association represents approximately 5,000 members; however, several more certified art therapists are practicing in the country and throughout the globe. Through creative self-expression and the power of art, these professionals and all art therapists provide an important service that is both challenging and rewarding.
A great route to becoming an art therapist
Lourdes University in Sylvania, Ohio, offers a concentration in Pre-Art Therapy for students majoring in Art or Psychology who go on to complete a master's degree at an accredited graduate school.
Licensed Professional Counselor (LPC) and alumna Rachel Biel is an Expressive Therapist at Waukesha Memorial Hospital in the greater Milwaukee, Wisconsin area. Finding her work worthwhile, Rachel facilitates expressive therapy and psychoeducation groups for adult clients through the inpatient behavioral health unit and partial hospitalization program. "In acute care, progress can be incremental," she cautions. "By the time patients are stable enough to engage in deeper therapeutic work, it is time to discharge them to the care of an outpatient provider. However, it is very rewarding to work with individuals over the course of two to four weeks and see them improve. I have witnessed some incredible transformations."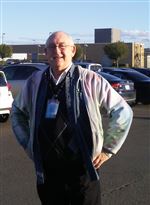 Bob Davis is as a rehabilitation therapist at Coalinga State Hospital in California.
Bob Davis, LLPC, is employed as a rehabilitation therapist at Coalinga State Hospital, an all-male forensic facility in California that provides mental health services for civilian detainees after they have served time in prison. As an art therapist, Bob uses art experientials to help build self-esteem, empathy and behavioral modification for these and other clients with mental health diagnoses.
"My work involves ten hours of group work each week and assisting approximately 35 to 50 patients at a time in completing treatment plans. It is challenging work and not for the timid. Many have been here for years. As an art therapist, I am also called upon to assist individuals who are dealing with end of life issues," he adds.
Making a positive difference
Art therapists around the globe use the creative process of making art to improve and enhance the physical, mental and emotional wellbeing of people of all ages. Practitioners integrate the fields of human development, visual art and the creative process with models of counseling and psychotherapy. "Art therapy truly can be one of the most challenging and yet rewarding careers. An art therapist often designs art projects that assist his or her clients become more positive about their future, while utilizing their knowledge of psychology to assist them in setting and accomplishing goals," adds Erin Palmer Szavuly, MFA, Chair of the Lourdes Art Department.
To learn more about the art program and pre-art therapy concentration at Lourdes University, call 800-878-3210, ext. 5291, visit www.lourdes.edu or email luadmits@lourdes.edu.
Guidelines: Please keep your comments smart and civil. Don't attack other readers personally, and keep your language decent. Comments that violate these standards, or our privacy statement or visitor's agreement, are subject to being removed and commenters are subject to being banned. To post comments, you must be a registered user on toledoblade.com. To find out more, please visit the FAQ.