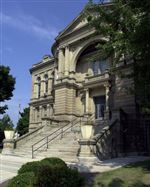 The Seneca County Courthouse, a Beaux Arts structure that was built in 1886.
THE BLADE
Enlarge | Buy This Image
COLUMBUS — It's a conversation many in the halls of the Thomas C. Moyer Ohio Judicial Center on Thursday night believed was long overdue, and it came too late for the 1884 Seneca County Courthouse.
The Ohio Supreme Court's home, whose own $85 million transformation was the envy of preservationists across the state, was the site of a discussion Thursday on how the state might preserve its mostly 19th-century county courthouses when many now are outdated and too small.
Among all the talk of preserving history, exploiting it for economic development, and upgrading it with technological, security, and energy-efficiency amenities during the two-day symposium, is the burning question: How do we pay for it?
"[Courthouses] are more than just buildings. They're institutions in the very best sense of that word," said Mindi Wells, the Supreme Court's interim administrative director, delivering the speech that an ailing Chief Justice Maureen O'Connor intended to give.
"In many rural parts of the state, they're the tallest buildings in town, visible for miles," she said. "... The history of a community and all of its participants are recorded within its courthouse walls."
Lucas County Commissioner Tina Skeldon Wozniak and Peter Ujvagi, county chief of public policy and legislative affairs, plan to present a proposal at a panel today to ask state lawmakers to embrace a new courthouse-related funding formula for its capital budget, the borrowing-fueled list of brick-and-mortar projects typically adopted every two years.
Mr. Ujvagi said the plan expands on an idea he explored several years ago while a state representative as he and others worked unsuccessfully to find a way to save the Seneca County Courthouse in Tiffin.
"We couldn't get anybody to pick it up at that point," he said.
They'd like to see lawmakers set in stone an unspecified percentage of the capital budget, the most recent of which totaled $2.4 billion, for courthouse and other local historic government building projects, both large and small. Projects would require the state, county, and private philanthropists to each pay one-third of the cost.
Ms. Wozniak said the discussions are timely given Toledo's interest in improving the open-space Civic Center Mall with the 117-year-old county courthouse on one end, a proposed federal courthouse on the other, and the potential demolition of the current county jail.
"Everything seems to be falling into place," Ms. Wozniak said. "It's good timing. We're past a recession where we can attend to some of the things that we care about."
Franklin Conaway, an architect heavily involved in trying to save Seneca County's courthouse, said the loss of that courthouse is probably a key reason these discussions are taking place now.
"The lessons learned in Seneca County are directly applicable to the concerns that are being reflected by the people here," he said. "All of these counties are struggling for funding mechanisms to maintain, rehabilitate, and restore their courthouses, and when we went through the Seneca County Courthouse situation, our team developed several different financing mechanisms. All of those are now going to be discussed."
The courthouse symposium is co-hosted by the Ohio Historical Society, the County Commissioners Association of Ohio, Heritage Ohio, and the American Institute of Architects' Columbus chapter.
Among those in the Lucas County delegation were Court Administrator Don Colby, Common Pleas Judge Dean Mandros, Clerk of Courts Bernie Quilter, and Tom Dodds, county capital projects manager.
Contact Jim Provance at: jprovance@theblade.com or 614-221-0496.
Guidelines: Please keep your comments smart and civil. Don't attack other readers personally, and keep your language decent. Comments that violate these standards, or our privacy statement or visitor's agreement, are subject to being removed and commenters are subject to being banned. To post comments, you must be a registered user on toledoblade.com. To find out more, please visit the FAQ.