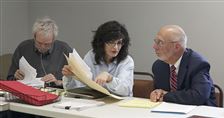 Lucas County Board of Elections member Tony DeGidio looks over paperwork as director Gina Kaczala talks to appointed overseer and retired judge Charles Wittenberg during the board's meeting Wednesday at the Early Vote Center in Toledo.
THE BLADE/LORI KING
Enlarge | Buy This Image
Two specially appointed judges sat in on the Lucas County Board of Elections special meeting Wednesday and witnessed a board able to operate unanimously when it came to processing provisional and absentee ballots from the May 6 election, but still fighting the battles that have brought down the hammer from the Ohio Secretary of State.
Retired Lucas County judges Peter Handwork, a Republican, and Charles Wittenberg, a Democrat, were appointed Tuesday by Ohio Secretary of State Jon Husted to oversee the board while it finishes counting the vote from the primary and Toledo Council District 2 special election.
"They functioned fine. There's obvious dissension," Judge Handwork said.
Judge Wittenberg said a problem he saw was that the board approved minutes from October to March.
"I'm not too sure how something like that could happen," Judge Wittenberg said, saying that it would be difficult to expect board members to remember and correct minutes that old.
"They seemed to be taking seriously the election and getting the vote certified," Mr. Wittenberg said.
During its meeting, the board voted unanimously to validate 205 provisional ballot envelopes, to certify Toledo Councilman Jack Ford as an independent candidate for state Senate District 11 in the Nov. 4 election, and to approve old board minutes.
The board voted 3-0, with Republican board member Jon Stainbrook abstaining, to assign subpoena power to the board chairman, director, and deputy director in an investigation involving Mr. Stainbrook. The Republican board member was accused of texting a staffer in the warehouse to slow down work after a reorganization of board staff on March 4 that Mr. Stainbrook opposed.
Mr. Stainbrook has denied the claim and has shown The Blade his cell phone records showing no such text messages.
"It's just another attempt to assassinate my character, but it looks like it's after the fact because the board is going to be removed," he said.
Board member Tony DeGidio, who made the motion, said the current board has an obligation to the next board to investigate an allegation of sabotage.
"When we have a problem like this we have to investigate sooner rather than later," Mr. DeGidio said.
Mr. Husted on May 12 announced he intended to remove Mr. Stainbrook and Mr. DeGidio, who are Republicans, and Democratic board Chairman Ron Rothenbuhler, along with the board's two top staffers, the director and deputy director, because of a recent history of alleged dysfunction and neglect of duty.
He is awaiting a report from a hearing officer before issuing a final decision.
Contact Tom Troy: tomtroy@theblade.com or 419--724-6058 or an Twitter @TomFTroy.
Guidelines: Please keep your comments smart and civil. Don't attack other readers personally, and keep your language decent. Comments that violate these standards, or our privacy statement or visitor's agreement, are subject to being removed and commenters are subject to being banned. To post comments, you must be a registered user on toledoblade.com. To find out more, please visit the FAQ.