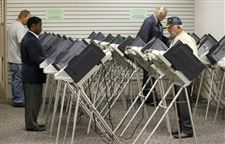 Voters in Toledo cast ballots at an early-voting site operated by the Lucas County Board of Elections.
The Blade
Enlarge | Buy This Image
COLUMBUS — An uphill climb to put a voters' bill of rights before Ohio voters this November ultimately proved too steep, as backers said today they've set their sights on 2015.
Meanwhile, the NAACP, League of Women Voters of Ohio, American Civil Liberties Union, and several African-American pastors who have sued the state over early voting urged the federal judge this week to grant an immediate injunction to expand weekend and voting hours beyond what the same judge did two weeks ago.
The voter bill of rights constitutional amendment is one of several proposed ballot issues in the field that are not expected to meet Wednesday's deadline to file petitions.
An attempt to overturn the 2004 ban on same-sex marriage has shifted its goal to 2015 or 2016. Various marijuana legalization proposals have lacked momentum. There's little indication petitions will be filed for a proposal to block workplace labor unions in Ohio from collecting fair-share fees in lieu of dues from non-members.
The Ohio Voter Bill of Rights group knew time was short from the beginning to gather a little more than 385,000 valid signatures of registered voters needed to submit the question to the secretary of state's office. In practice, far more signatures than that are usually needed to compensate for signatures likely to be disqualified during the subsequent scrutiny by county boards of election.
The effort's leader, state Rep. Alicia Reece (D., Cincinnati), said supporters have gathered only about 100,000 signatures with "a shoestring budget and a lot of faith."
Guidelines: Please keep your comments smart and civil. Don't attack other readers personally, and keep your language decent. Comments that violate these standards, or our privacy statement or visitor's agreement, are subject to being removed and commenters are subject to being banned. To post comments, you must be a registered user on toledoblade.com. To find out more, please visit the FAQ.