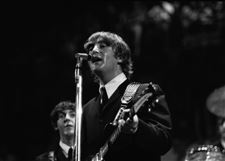 In this 1964 photo made by Walt Burton and provided by Christopher Hoeting, John Lennon, front, and Paul McCartney, of the Beatles, perform during a concert in Cincinnati.
ASSOCIATED PRESS Enlarge
CINCINNATI — A photographer who had special access to the Beatles' 1964 Cincinnati appearance plans to offer previously unseen photos to the public.
Photos by Walt Burton will be available starting Oct. 18 during a regional photography festival, The Cincinnati Enquirer reported.
Burton was the official event photographer for the Cincinnati concert, the seventh stop on the Beatles' tour 50 years ago. The photos include their airport arrival with teens rushing their limousine, a press conference and the "Fab Four" performing their Cincinnati Gardens concert.
"When I saw them, I was blown away," said Christopher Hoeting, an art professor and artist who is serving as Beatles project archivist for the Burton estate. Burton is now 80 and lives in a Cincinnati retirement community.
"They show the entirety of what happened that day," Hoeting said. "The intimacy is amazing."
In his long career, Burton shot publicity photos for such clients as Cincinnati's Playhouse in the Park and the Playboy Club that was downtown, and operated a gallery dealing in rare and antique photographs.
Prints of up to 50 of his images will be on display and for sale at a downtown store, and two groups of signed and numbered prints also will be offered for sale via email. Unframed prints will start at $150 each, with some framed prints at $525. The two 10-print groups will be limited to 25 sets each.
"We're not printing 100 million of these so everyone can have them," Hoeting said. "We want these to be like little gems."
He said the negatives aren't for sale, but his research indicates they are worth thousands of dollars.
Guidelines: Please keep your comments smart and civil. Don't attack other readers personally, and keep your language decent. Comments that violate these standards, or our privacy statement or visitor's agreement, are subject to being removed and commenters are subject to being banned. To post comments, you must be a registered user on toledoblade.com. To find out more, please visit the FAQ.