COLUMBUS — Opponents on Wednesday immediately vowed to appeal a decision by state regulators that largely ratified a decision permitting FirstEnergy Corp. to collect hundreds of millions more from its 1.9 million customers.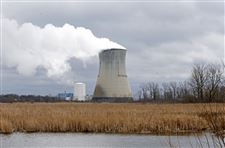 FirstEnergy Corp.'s Davis-Besse Nuclear Power Station in Oak Harbor, Ohio. State regulators Wednesday ratified a decision permitting FirstEnergy Corp. to collect hundreds of millions more from its 1.9 million customers.
ASSOCIATED PRESS Enlarge
The money is supposed to be earmarked for yet-to-be-specified improvements to the utility's electricity distribution grid, but critics contend it remains a backdoor way to bail out a subsidiary's uncompetitive coal-fired and nuclear power plants. Opponents plan to challenge the decision before the Ohio Supreme Court.
FirstEnergy Corp., the Ohio Consumer's Counsel, and a number of environmental and business organizations had all urged the Public Utilities Commission of Ohio to reconsider differing elements of the case. Without comment, the PUCO on Wednesday largely maintained its original order from October.
RELATED CONTENT: Lucas Co. commissioners against new subsidies for FirstEnergy ■ Blade editorial

Power generated by the utility subsidiary's coal-fired and nuclear plants, including the Davis-Besse Nuclear Power Station near Oak Harbor, has been undercut by cheap and abundant natural gas to the point that FirstEnergy Solutions has been flirting with bankruptcy.
Under the order, FirstEnergy may collect a total of $132.5 million a year, or about $3 on the distribution side of a typical residential customer using 750 kilowatt hours. Consumers will pay more than $200 million a year after taxes on the distribution side of their bills, for more than $600 million over three years, regardless of whether they buy their power from FirstEnergy Solutions or another supplier.
The company could come back after two years to request a continuation of the rate plan.
"Today's decision affirmed the commission's previous order that will help support future investments to modernize our electric system," FirstEnergy spokesman Doug Colafella said. "Grid modernization will benefit our customers and competitive suppliers by enhancing service reliability and enabling new products and services."
FirstEnergy had originally asked for customers to subsidize the operations of its power plants by $558 million a year, or $4.5 billion over eight years.
"Ohioans have already paid some $80 million this year in subsidies to FirstEnergy, and, since the state's rubber-stamp regulators continue to ignore their responsibility to protect customers, that number is set to go up," said Dick Munson, director of Midwest Clean Energy for the Environmental Defense Fund.
The utility has been unsuccessful so far in trying to convince lawmakers at the Statehouse to enact legislation to have customers subsidize the plants' operations under the argument that the state would benefit economically and in terms of power security by keeping the plants in operation.
The PUCO's October order calls for FirstEnergy to invest the additional funds in improvements to its distribution grid and is not designed as a direct subsidy for the plants. The Federal Energy Regulatory Commission had struck down an earlier PUCO order that had imposed direct subsidies.
"If you look at the history of this case and almost three years of various iterations of what they were asking for, we firmly believe it is $625 million to reward FirstEnergy for bad business decisions, for investing big in coal-fired power when other utilities were thinking of plans to transition away from fossil fuels," said Trish Demeter, managing director for energy with the Ohio Environmental Council.
Contact Jim Provance at jprovance@theblade.com or 614-221-0496.
Guidelines: Please keep your comments smart and civil. Don't attack other readers personally, and keep your language decent. Comments that violate these standards, or our privacy statement or visitor's agreement, are subject to being removed and commenters are subject to being banned. To post comments, you must be a registered user on toledoblade.com. To find out more, please visit the FAQ.