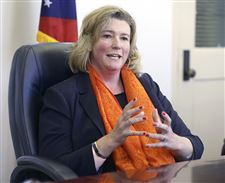 Dayton Mayor Nan Whaley visits with the Blade editorial board Friday, June 2.
THE BLADE/DAVE ZAPOTOSKY
Enlarge | Buy This Image
COLUMBUS — Ohio Democratic gubernatorial candidate Nan Whaley on Thursday called for a free community college education that would be funded through taxpayer borrowing.
"If we want to change the direction of our state, education is the key ..." the Dayton mayor said during an appearance before the City Club of Cleveland as she tied continuing education to future workforce development.
"This is about giving every hard-working Ohioan an opportunity to succeed and to succeed without having to leave Ohio," she said. "Universal free community college will provide that opportunity."
She estimated that the so-called "Ohio Promise" would cost $50 million to $60 million a year, based on the model in Tennessee.
"We'd do that through a bond, which would allow it to be sustaining," Ms. Whaley said. "And in the state budget, $50 to $60 million to invest in the future of our workforce to make sure [residents] stay in Ohio is a drop in the bucket [compared] to other things they're spending on."
The total price tag has not been determined for the bond issue that would have to be approved by voters.
The benefit would apply not only to younger people first going to college to get two-year associate degrees, but also to older Ohioans seeking degrees or retraining for new job skills. To be eligible, the student would have to maintain at least a 2.25 grade-point average and complete the degree within two and a half years.
It would require all students to fill out the Free Application for Federal Student Aid in order to draw down as much federal funds as possible. She said Ohio students leave $90 million in federal grants unclaimed by not filling out the form.
She also pointed to the decision made by Dayton to invest on the front end of education by providing universal preschool for 1,100 4-year-olds at nearly 60 sites.
Ohio has yet to officially close the books on the 2017 election, but candidates for governor in 2018 have been rolling out their proposals on opiate addiction, health care, education, economic development, and other issues for months.
Ms. Whaley is part of a crowded field seeking the Democratic nomination. Other announced candidacies include Ohio Supreme Court Justice William O'Neill, state Sen. Joe Schiavoni (D., Boardman), former Akron area congressman Betty Sutton, and former Cincinnati state Rep. Connie Pillich.
The field on the Republican side is only slightly less crowded — Lt. Gov. Mary Taylor, Secretary of State Jon Husted, U.S. Rep. Jim Renacci (R., Wadsworth), and Attorney General Mike DeWine.
Even as Ms. Whaley said she could work as governor with majority Republicans in the General Assembly, she took aim at their policies as well as those of Gov. John Kasich. She claimed they've championed tax cuts that haven't helped working Ohioans, cut aid to local governments on the front lines of problems to balance the state budget, and failed to do enough to tackle the state's opiate and heroin addiction crisis.
"False claims and more broken promises will not move this state forward," she said. "If we want to turn this state around, we need a governor who's ready to act boldly, a governor who gets it, and knows how to get things done, a governor who isn't afraid to face Ohio's challenges head on."
Contact Jim Provance at: jprovance@theblade.com or 614-221-0496.
Guidelines: Please keep your comments smart and civil. Don't attack other readers personally, and keep your language decent. Comments that violate these standards, or our privacy statement or visitor's agreement, are subject to being removed and commenters are subject to being banned. To post comments, you must be a registered user on toledoblade.com. To find out more, please visit the FAQ.