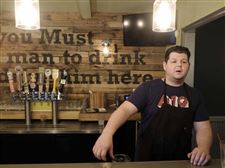 Ryan Bogdanski, co-owner of Devour, talks about the Hollywood Casino.
THE BLADE/JEREMY WADSWORTH
Enlarge | Buy This Image
Ryan Bogdanski leaned over his newly-installed tap handles of local and craft beers and pointed out of his restaurant's front door toward the Hollywood Casino in East Toledo.
"We get a lot of people from the casino — mostly employees but some of the gamblers too," said Mr. Bogdanski, owner of Devour in Rossford.
"They want me to start delivering and when there is a special event we see an extra flow of traffic," he said. "It's been a good thing for us and for the city here."
The casino, which is sandwiched between I-75 and the Maumee River on Toledo's east side within dice-throwing distance of that restaurant in Rossford, opened more than five years ago. It and others in Columbus, Cleveland, and Cincinnati, were made possible when nearly 1.7 million Ohio voters — about 53 percent of total ballots — agreed in November, 2009 to place their bets with 24-hour casinos in the four cities.
There were predictions of incredible tax revenues for host cities suffering from the recent economic collapse, Ohio's 88 counties, and the state's budget-beleaguered schools. There was also excitement about the development the casinos would stimulate in those cities.
Everyone would get some money from the pot.

VIDEO: Hollywood Casino Toledo general manager Rafael Verde discusses the casino impacts the local economy
Five years later, opinions on casinos are mixed in Ohio, with some still supporting the gambling centers and others wanting more for the four host cities outside of the glitz of the full-service gambling floors.
Rossford Mayor Neil MacKinnon III, a huge supporter, said good things in his city like Mr. Bogdanski's new bar-restaurant, a planned entertainment district, and other improvements along Rossford's downtown would not be happening without the casino.
Plans for the entertainment district — a project estimated to cost as much as $85 million — include a hotel and conference center, restaurants, and boutique shops. The retail and restaurant complex will be connected to the casino by an aerial gondola.
Rossford City Administrator Mike Scott said an access road built by ODOT is complete. Developer Dallas Paul said project leaders are still searching for tenants, but the search is "going well." He expects construction on the rest of the project to start in the second half of 2018, with whole development done by 2020 or 2021.
"It's happening now," Mr. MacKinnon said of the economic development that was promised in 2009 by supporters of the Ohio Constitution ballot initiative that year.
Mr. MacKinnon said the city benefits immensely from having a "first-class entertainment facility" anchoring Rossford's businesses.
"It draws people from the tri-state area and farther right to the edge of our central business district," he said.
The house rake
People across the state are steadily going to the four casinos, according to a review of revenues complied since 2012 by the Ohio Casino Control Commission, the state body that regulates the industry.
Since 2013 — the first year the casinos in Toledo, Columbus, and Cleveland had a full 12 months of gambling — the "adjusted gross revenue," which is money received by the casino operator less winnings paid to patrons, has stayed relatively steady statewide.
In Toledo, the casino's revenue was $183,366,380 in 2013; $183,254,366 in 2014; $192,761,697 in 2015, and $191,610,636 in 2016.
Each casino is required to file and remit taxes to the state of Ohio daily. Money is transferred from the Ohio Casino Tax Revenue Fund into separate funds — 5 percent goes to the host city; 34 percent to the county student fund; 51 to the county fund; 3 percent to the casino control commission fund; 3 percent to the Ohio state racing commission fund; 2 percent to the law enforcement training fund, and 2 percent to the "Problem Gambling & Addictions Fund."
Toledo Finance Director Peter Rancatore said the city's share has been one of the steadiest sources of income the past five years.
Mr. Rancatore said tax revenue from regional casinos across the country tends to be high at first and "tappers off" as excitement dies down.
But in Toledo, it's been a steady pot of cash.
Toledo's share of the tax revenue was $2,975,531 in 2012, when it was open part of the year. It was then $5,692,000 in 2013; $5,601,688 in 2014; $5,713,000 in 2015; $5,647,422 in 2016, and $4,445,892 through the end of the third quarter this year.
The Jack Cleveland is located in the heart of that city's downtown. It was previously called the Horseshoe Cleveland.
It had the largest decline in revenues of the four casinos during the four-year period — dropping 16.1 percent from $242.6 million in 2013 compared to $203.57 million last year.
Statewide, all four casinos made a combined $821.2 million in 2013; $809.2 million in 2014; $812.3 million in 2015, and it dropped in $797.9 million last year.
That 2016 total is $23 million less than the statewide total in 2013 but the casino in Cincinnati wasn't open that year until late February. Its monthly revenue that year ranged between $14.2 million and $21 million.
The University of Cincinnati in June, 2009 issued a report that said the casino ballot proposal each year would generate "nearly $11 billion in total economic impacts and more than $4 billion in fiscal revenues for the state of Ohio during construction and the first five years of operation."
The report said "the economic impact on the state includes nearly $2.66 billion during construction and nearly $1.5 billion during the first year of operations, with increases in each of the succeeding years. The four proposed casinos are also estimated to generate $256 million in fiscal revenue for the state during the construction phase and $663 million in the first year of operations, with increases in the subsequent years."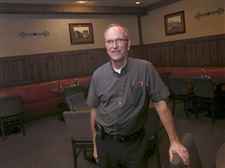 Jay Bettin, owner of York Steak House, has weathered both the end of other York Steak Houses and the closing of the mall across the street. His business is located near Columbus' Hollywood Casino.
The Blade/Katie Rausch
Enlarge | Buy This Image
Outside dollars make the difference
The Toledo and Columbus casinos are owned by Pennsylvania-based Penn National Gaming.
Gamblers in Columbus like Margaret Matthews, who lives near the venue, praised it as a "classy place" and a "good place to eat, lose money, and occasionally win some dollars."
Others outside the casino said they haven't seen the kind of redevelopment that was envisioned for the struggling section of the state capitol.
"A lit bit of increase in business, a little bit of decrease in crime — just a little bit either way," said Paul Troup, manager of Pro Printing in Columbus near the casino. "Not as much as we hoped. The hope of course [was] the casino would bring in a lot of business but so far it doesn't seem like it's made anything over a small difference."
Bill LaFayette, owner of Regionomics, a Columbus-based "economic and workforce strategy" firm, said it is difficult to determine the true economic impact of regional casinos since the origins of gamblers aren't known to outsider observers and economic researchers.
"The point is if you are saying somebody in Toledo is going to the Toledo casino, you are not generating economic impact because that person from Toledo would have probably spent that money in the community anyway so you are simply relocating the money in the same community," Mr. LaFayette said. "What you have to do is figure out what percentage of dollars generated in the casino is coming from outside."
"There have been some efforts at businesses opening but not nearly to the extent people were hoping," he said. "There was a mall called Westland just west of where the casino is [in Columbus] that actually went dark."
The Hollywood Columbus casino is a $400 million gaming venue off West Broad Street on the site of a closed Delphi Corp. plant on the west side of that city.
The economic decline there was so obvious an Associated Press story referred to the area as "America's Loneliest Neighborhood" in 2009.
Jay Bettin, owner of York Steak House nearby on Columbus' West Broad, said some of his customers come from the casino, but not in droves.
"They were going to build it downtown and then they petitioned to put it out here. When they said downtown or here, I said 'sure, build it here,'" he said.
Mr. Bettin started to say the casino has not spurred any development nearby but stopped mid-sentence.
"There hasn't been any real new — well I shouldn't say nothing because even behind me there is the Big Lots … and Value City opened," he said. "There is some new stuff but nothing huge. With any retail, they are not going to build just because the casino is here. The area has to support it."
But last year, Weston Vision Inc., a nonprofit group leading revitalization efforts along West Broad east of I-270, said 20 private- and public-sector improvement projects in the vicinity were completed or under way.
The vacant Westland Mall, a 93-acre blighted structure nearby on West Broad, is the biggest impediment to redevelopment, Mr. Bettin said.
Rafael Verde, Hollywood Casino Toledo general manager, said the venue has had a huge impact on Toledo.
"One way is the tax contribution we pay to the state and local community," he said. "Another way is how was chose local vendors,... [and] another way of economic activity would be the charities we partner with."
The taxes generated since May 2012 include $320 million from gambling, $25.75 million in real estate taxes, $13.5 million in payroll taxes to the city, and $450,000 in state income taxes, Mr. Verde said.
The casino draws money from out-of-state and has pulled gamblers away from the casinos in Detroit, which were previously the closest gaming option for Toledoans, he said.
Out of state customers generated about $55 million of gaming, sales, and use tax, according to a recent Penn national investors presentation.
"We also estimate 25 percent of our unknown patrons [customers without players cards] are out-of-states customers," the presentation said.
Mr. Verde said the casino's location right along I-75 is a huge advantage for attracting customers.
"Twenty-five percent to 30 percent of the revenue we generate is out-of-towers — more than a 50 mile radius away," he said. "Most regional casinos are like that, If you go to a destination casino like those in Las Vegas it will be more tourists."
Staff writer Jay Skebba contributed.
Contact Ignazio Messina at: imessina@theblade.com, 419-724-6171, or on Twitter @IgnazioMessina.
Guidelines: Please keep your comments smart and civil. Don't attack other readers personally, and keep your language decent. Comments that violate these standards, or our privacy statement or visitor's agreement, are subject to being removed and commenters are subject to being banned. To post comments, you must be a registered user on toledoblade.com. To find out more, please visit the FAQ.