COLUMBUS — For the president of the state Senate, Ohio's progress over the last year can be seen in two numbers.
At the end of November, 2016, the state's tax revenue collections were already $259.1 million in the red with more than half the fiscal year left to go. The hole would quadruple in size from there.
This year to date, tax collections are $29.5 million over the state's lowered expectations. That's a scant 0.3 percent, but definitely still in the black.
"We tackled a very challenging budget cycle, one where we faced a gap of about $1.1 billion, where frankly the existence of the gap wasn't widely acknowledged until the middle of April, I believe," Senate President Larry Obhof (R., Medina) said as he looked back at 2017.
"We had very little time to make a lot of tough decisions…," he said. "If you look at where we were at this point a year ago and where we are now with the prior budget and this one, we are right on track with the revenues coming in every month. At this time a year ago we think we had missed something like eight out of 10 months."
The budget for the current fiscal year, signed into law by Gov. John Kasich at the end of June, dominated the first half of the year.
Rep. Fred Strahorn (D., Dayton), House minority leader, said that while Ohio met its balanced budget obligation, the new two-year budget did little to undo past majority Republican choices that he said contributed to the problems.
"The success, or lack of success, in the raw numbers have to be taken in context," he said. "Compared to the national recovery, we've done pretty poorly….The shortfalls or having slow tax revenue coming in is a reflection of that."
The year witnessed the incremental steps Ohio has taken in its march toward building an infrastructure for a fledgling medical marijuana industry from seed to patient by Sept. 8, 2018, as well as the maneuvering among the Republicans and Democrats running next year to replace Mr. Kasich.
Back from his unsuccessful run for president in 2016, Mr. Kasich found himself at odds with his Republican counterparts in the legislature over the survival of his Medicaid expansion. He exercised his line-item budget veto to fight back legislative attempts at home to roll it back.
His presidential campaign may be over, but he still makes frequent appearances on the Sunday political show circuit. He wrote a book about his campaign experiences and his campaign continues to raise money. All of this has fueled conjecture that he may run again in 2020.
Lawmakers continued their efforts to restrict abortion with the governor signing a bill just before the holidays to criminalize the procedure if it's sought because of a Down syndrome diagnosis. Abortion clinics in Toledo and Cleveland appeared before the Ohio Supreme Court in hopes of staving off efforts by his administration to shut them down.
After several years, lawmakers shuttered the Ohio Constitutional Modernization Commission before it could finish its work on recommendations to clean up or strengthen the constitution.
The state set new records in opioid overdose deaths even as lawmakers, the governor, and gubernatorial candidates try to figure out how to turn the crisis around. Ohio Attorney General Mike DeWine and several cities like Toledo have sued drug-makers for marketing practices they contend downplayed the risks of addiction.
After three and a half years of court delays and Kasich moratoriums, Ohio resumed carrying out executions after settling on a new three-drug process.
The state executed two death row inmates in July and September but then — for just the second time in modern history — halted a third execution after the process had begun because executioners could not find useable veins in frail Alva Campbell, of Cuyahoga County. The state plans to try again in 2019.
Meanwhile, lawmakers went home for the year after again failing to pass a fix for the state's weakened unemployment compensation fund. The trust fund is not expected to weather even a few months of a mild recession, something that statistically is about due.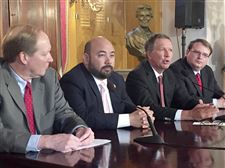 From left, budget Director Tim Keen, House Speaker Cliff Rosenberger (R., Clarksville), Gov. John Kasich, Senate President Larry Obhof (R., Medina) talk about cuts to the proposed next two-year state budget.
THE BLADE/JIM PROVANCE
Enlarge | Buy This Image
Trying to get labor and business to agree on what would likely be a mix of tax increases for employers and benefit cuts for the unemployed remains a top priority for 2018, say legislative leaders.
"They're kicking the can down the road," Mr. Strahorn said. "The proposals have put an unbalanced burden on employees who were not responsible for what hasn't been done to make the program solvent."
Still pending is proposed reform for congressional redistricting, the inherently political redrawing of districts every 10 years after completion of a U.S. Census. Republicans hold super-majorities in both the House and Senate.
"I expect that we will have a resolution introduced in early January, and that will pass by the end of the month," Mr. Obhof said.
That could put a proposed constitutional amendment on the May 8 primary election ballot.
Guidelines: Please keep your comments smart and civil. Don't attack other readers personally, and keep your language decent. Comments that violate these standards, or our privacy statement or visitor's agreement, are subject to being removed and commenters are subject to being banned. To post comments, you must be a registered user on toledoblade.com. To find out more, please visit the FAQ.