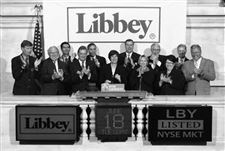 Stephane Streeter, CEO of Libbey, Inc., rings the closing bell at the New York Stock Exchange.
It's been a busy week for Stephanie Streeter, the chief executive officer of Toledo-based glass maker Libbey Inc.
On Monday she was named executive of the year in the manufacturing category at the 11th annual American Business Awards in Chicago.
But she wasn't able to be at the ceremony.
She was in New York City, where she and other Libbey executives rang the closing bell Tuesday at the New York Stock Exchange in honor of the 20th anniversary of the company's original listing on the exchange.
For the American Business Awards, Ms. Streeter was one of three finalists in the manufacturing category, along with Alex Molinaroli of Johnson Controls in Milwaukee and Michael Araten of K'NEX in Hatfield, Pa.
Ms. Streeter was unavailable for comment about the award.
She took over as Libbey's chief executive officer in August, 2011.
Last July, she introduced a new strategic plan aimed primarily at reducing Libbey's costs, improving its profitability, and accelerating growth in China. She reorganized company leadership away from a global system into three regions and cut about 9 percent of Libbey's worldwide management and administrative work force.
Global sales reached $825 million in 2012, up 1 percent from 2011 and setting a new record.
Libbey's reported earnings fell 70 percent in 2012 compared with 2011, dropping from $23.6 million to $7 million. However, Ms. Streeter told The Blade that was influenced by large one-time items such as a $31 million expense related to the company's repurchase and redemption of senior notes. On an adjusted basis, Libbey said its 2012 net income was $47.5 million compared with an adjusted $25.8 million in 2011.
She told The Blade in March that the company is getting better at "making what will sell and not selling what we make."
"[T]he difficult decisions we made in 2012 to take out costs are clearly paying off," Ms. Streeter said in April when Libbey released its results for the first quarter of 2013. "We're building a track record of success improving our cost structure, focusing on productivity improvements, leveraging our advantaged businesses, and strengthening our balance sheet."
Libbey employs about 7,000 worldwide, about two-thirds of them outside the United States. It sells tableware, ceramic dinnerware, and metal flatware in more than 100 countries. Earlier this year, the company cut about 200 jobs at its facility in Shreveport, La.
Libbey's stock was in the $15-a-share range when Ms. Streeter became the CEO. It closed Tuesday at $24.53, up 44 cents.
Before joining Libbey, Ms. Streeter had a yearlong stint as interim chief executive officer of the U.S. Olympic Committee. Before that she was chief executive officer of Banta Corp., a printing and supply chain management company based in Wisconsin, from 2002 until it was acquired by R.R. Donnelley & Sons in 2007. She is a graduate of Stanford University, where she earned four letters in basketball.
Guidelines: Please keep your comments smart and civil. Don't attack other readers personally, and keep your language decent. Comments that violate these standards, or our privacy statement or visitor's agreement, are subject to being removed and commenters are subject to being banned. To post comments, you must be a registered user on toledoblade.com. To find out more, please visit the FAQ.