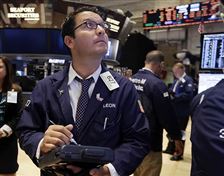 Trader Leon Montana works on the floor of the New York Stock Exchange. U.S. stocks opened slightly higher on Tuesday and remained in positive territory as economic reports touted a rise in consumer confidence, an increase in durable goods orders, and a rise, though slower, in U.S. home prices.
ASSOCIATED PRESS Enlarge
NEW YORK — The Standard & Poor's 500 index reached a milestone Tuesday, closing above 2,000 points for the first time. The achievement came 16 years after it closed above 1,000 points for the first time.
The milestone added to the market's gains from the day before and extended the stock index's record-shattering run this year.
The S&P 500 index, the widely followed market barometer, has closed at a new high 30 times this year.
The index briefly rose past 2,000 on Monday but closed just below that point, still setting a record-high close. On Tuesday, it rose 2.10 points, or 0.1 percent, to end at 2,000.02.
"There's perhaps a small psychological boost when you get over such a significant price level," said Cameron Hinds of Wells Fargo Private Bank.
Investors are cheered by new signs of a strengthening economy.
The Conference Board said Tuesday that its consumer confidence index rose this month to the highest point in nearly seven years. Another said orders of durable goods surged by a record 22.6 percent in July. And another said U.S. home prices rose in June, although at a slower pace.
The Dow Jones industrial average rose 29.83 points, or 0.2 percent, to 17,106.70. The Nasdaq composite gained 13.29 points, or 0.3 percent, to 4,570.64.
Guidelines: Please keep your comments smart and civil. Don't attack other readers personally, and keep your language decent. Comments that violate these standards, or our privacy statement or visitor's agreement, are subject to being removed and commenters are subject to being banned. To post comments, you must be a registered user on toledoblade.com. To find out more, please visit the FAQ.