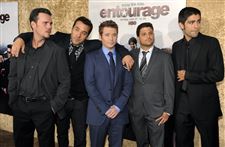 'Entourage' cast members, from left, Kevin Dillon, Jeremy Piven, Kevin Connolly, Jerry Ferrara and Adrian Grenier.
ASSOCIATED PRESS Enlarge
NEW YORK — Series creator Doug Ellin says a long-planned "Entourage" movie is finally "a go."
Ellin tweeted the news Monday evening, along with a photo of himself and the cast arm-in-arm. Returning to bring the HBO series to the big screen are stars Jeremy Piven, Adrian Grenier, Jerry Ferrara, Kevin Dillon and Kevin Connolly.
"Entourage" is a light portrait of Hollywood and young stardom that ran for eight seasons on HBO before ending in 2011.
Piven thanked fans on Twitter for their patience. He writes, "Now it's time to go to work!"
Warner Bros. is expected to begin production on the film in January.
Guidelines: Please keep your comments smart and civil. Don't attack other readers personally, and keep your language decent. Comments that violate these standards, or our privacy statement or visitor's agreement, are subject to being removed and commenters are subject to being banned. To post comments, you must be a registered user on toledoblade.com. To find out more, please visit the FAQ.