As the man who ran Clear Channel Communications Inc.'s cluster of Toledo radio stations for years, Andy Stuart didn't shy away from making enemies in local media and politics.
It was an attitude exemplified at WSPD-AM, 1370, and its stable of provocative local talk-show hosts — some would say they were more akin to "shock jocks" — whose on-air diatribes were relentless, often personal, and frequently, well, shocking. For example, Scott Sloan, who made reference to the Rev. Jesse Jackson's involvement in a situation in Decatur, Ill., where he was arrested for protesting the treatment of black high school students involved in a fight.
Sloan suggested Rev. Jackson wanted to die a martyr like the Rev. Martin Luther King, Jr., and made remarks that seemed to advocate his assassination.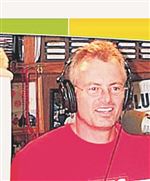 Denny Schaffer.
And before joining WSPD to host the afternoon slot, Denny Schaffer, then a morning host on Clear Channel's WVKS-FM, 92.5, stirred up controversy and a lawsuit for statements he broadcast 15 years ago about a purported relationship between Blade staff writer Sandra Svoboda and John Robinson Block, the newspaper's publisher and editor-in-chief. The station settled out of court with a financial settlement to Ms. Svoboda.
In November, 2012, Stuart left his position as vice president and regional market manager of Clear Channel to head a local start-up.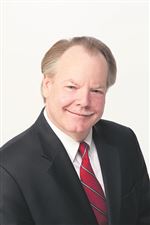 Andy Stuart.
Now, with his recent return to the local radio arena to run Cumulus Media's nine stations, he's blunt about not renewing old rivalries.
"I don't think that will ever happen again," he said. "I have no interest in taking on The Blade as a topic. I don't have any interest in it."
Instead, Stuart would rather take on Toledo's elected and appointed officials he says are stunting regional economic development and growth via commentaries slated to run on all of Cumulus' local stations. Just don't expect Stuart to create another WSPD at WLQR-AM 1470 as a mouthpiece for local political change — at least for now.
"Finding people — announcers — who have an ability to understand this and articulate it, it's a tough one," he said. "If I do that, that's going to be further down the road. I don't see us building a station like SPD anywhere in the near term."
Plus, conservative radio, with its declining ratings and aging audience, is "going through the end of a product cycle," he said.
"There is going to be a rebirth of talk. We just don't know what that looks like yet," Stuart said. "Right now it's at the bottom and everyone is asking lots of questions."
Fred LeFebvre.
Blade Photo Enlarge
Current WSPD drive-time talk-show host Fred LeFebvre, who was a Schaffer sidekick, and the station's former afternoon host Brian Wilson, did not respond to The Blade's request for comments, but Schaffer, who now hosts a morning talk show on WRNO-FM, 99.5, in New Orleans, replied via email: " I would love to answer your questions but only if JRB [John Robinson Block] himself calls me. I look forward to hearing from him! Have a blest day!"
Schaffer's foul-mouthed antics on Toledo radio under Stuart's guidance garnered him a $250,000 payday, according to one Toledo radio executive. The one-time Toledo shock jock has found Jesus and also broadcasts on the Internet at DennyRadio.com. On his website he lists "God, church, family" as his top three interests, and ends his emails with a citation to John 3:30 — "He must increase, but I must decrease."
Referring to Toledo Public School students on air as "little monkeys" — as Wilson once did — and prying into the sex lives of local media as Schaffer loved to do may make for shocking radio talk, but it doesn't necessarily equate the broadcasters to shock jocks.
B. Eric Rhoads, publisher of industry trade magazine Radio Ink, said the delineation between the provocateurs of AM talk shows and the ribald FM morning show teams involves two of the topics to avoid during dinner parties: politics and sex.
"The term 'shock jock' refers to those who tend to focus on over-the top blue content," Rhoads said. "Political talkers like Limbaugh are not considered shock jocks. They have strong political opinions but they are not borderline in terms of content legality. Shock jocks talk about sex, talk hosts talk about politics [and other topics]."
Stuart said he thinks the era of the shock jock may be over.
"You can't make it last," he said. "I mean, how shocking can you be? You're shocking today, you've got to to be more shocking tomorrow, and more shocking the next day. Next thing you know you've worn out the audience and advertisers aren't interested. They're bored with it. The shock part is very short. It's like sticking your finger in a light socket. It's going to be painful and it's going to get attention, but it's not something that you're going to do every day.
"I don't think shock jocks have a place in radio," Stuart added. "I don't think the shock jocks are ever going to come back."
Rhoads, however, isn't so certain we're witnessing the death spiral of morning prank calls and potty humor on air.
"I don't think there is much research to support it either way, but the two shock jocks who had the most impact were Howard Stern and Bubba the Love Sponge, neither of which are on broadcast radio any longer," he said. "Clearly Stern is still on Satellite radio and seems to be thriving. I think it's determined on a city-by-city basis. I'm sure there are talent in some markets still successful with over-the-top blue content today."
Just don't expect to find such personalities on a Cumulus station in Toledo. When asked if Stuart's hire might mean the return of the shock jock to local radio, Lew Dickey, Jr., Cumulus Media chairman, president, and chief executive officer, was definitive in his answer: "No shock jocks in our stable."
As for the Stuart hire, it was important to find "the right person to lead" the Cumulus stations in Toledo, said Dickey, who acquired his father's Toledo-based radio business, Midwestern Broadcasting, in 1997 as part of Cumulus' growth into the second-largest radio station operator in the nation.
"Toledo has a special place in our heart for obvious reasons," Dickey said, and "I have a great deal of respect for Andy. He worked in the market a long time and had a stellar track record of performance and is very well thought of. All [his] experience in Toledo and all the relationships in Toledo make him ideally suited to take our cluster of stations to a higher level of performance."
Radio Ink's Rhoads, also noted the "deep roots and emotional ties" Toledo radio has to the Dickeys. "Whomever they select to run the Toledo stations probably has even more scrutiny than most because they want to make sure that their community is handled well," he said. "I think that speaks volumes about the confidence they have in Andy."
Contact Kirk Baird at kbaird@theblade.com or 419-724-6734.
Guidelines: Please keep your comments smart and civil. Don't attack other readers personally, and keep your language decent. Comments that violate these standards, or our privacy statement or visitor's agreement, are subject to being removed and commenters are subject to being banned. To post comments, you must be a registered user on toledoblade.com. To find out more, please visit the FAQ.