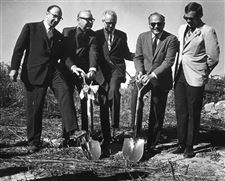 Paul Block, Jr., Gov. James Rhodes, Dr. Glidden L. Brooks, college president, Dean Robert G. Page, and Lurley Archambeau, student body president.
The Blade
Enlarge | Buy This Image
Local history aficionados are in for a treat with a fascinating look at the University of Toledo Medical Center's origins in MCO: A History of Healing and Teaching, an hour-long documentary that premieres at 8 p.m. Thursday on WGTE-TV.
The segment is the latest installment of the public television station's long-running series, Toledo Stories.
The documentary starts years before the Ohio General Assembly approved legislation on Dec. 18, 1964, to make the former Medical College of Ohio the state's fourth medical school and 100th in the United States.
Nowhere in the documentary is the now oft-cited phrase, "If you build it, they will come," coined by the popular 1989 baseball movie, Field of Dreams.
But MCO, just like the Iowa ballpark in that film, literally grew out of a cornfield.
The late Paul Block, Jr., an organic chemist who was The Blade's co-publisher at the time, is lauded as a visionary for conceptualizing the idea for a medical school in Toledo and, more importantly, following through with it.
Those interviewed include Mr. Block's two sons, John Robinson Block, current publisher and editor in chief of The Blade and its sister paper, the Pittsburgh Post-Gazette, and Allan Block, chairman of Block Communications Inc., The Blade's and the Post-Gazette's parent company.
"I had to share my parent with this cause that he so believed in, which was to create a medical college for Toledo," John Robinson Block says in the film.
The impetus for the medical college was a shortage of doctors in the 1950s and 1960s.
Paul Block, Jr., made the medical college such a priority that, during Ohio's 1962 gubernatorial election, he had his newspaper endorse Republican challenger James Rhodes over Democratic incumbent Michael DiSalle, even though the latter was from Toledo. Allan Block explains in the documentary that his father felt Mr. DiSalle was not being responsive enough to Toledo.
The documentary provides rare clips from several of the medical school's watershed moments. Those include the design by Yamasaki Associates, Inc., an architectural firm that was based in Troy, Mich., and was best known as the designer of the original World Trade Center towers in New York City, and MCO's merger with the University of Toledo in 2006 to form what has been known since as UTMC.
"I think the merger was inevitable," Allan Block said. "You want one strong university in Toledo rather than two marginal ones. But I do think the University of Toledo should remember that MCO was a separate institution and treat it differently than if it had always been one."
Paul Block, Jr.'s dual passion for science and journalism is explored.
"He was normally working in his lab at all kinds of hours. He had a telephone in his chemistry lab connected to The Blade," John Robinson Block said. "He could be watching a reaction run in his lab or taking a melting point in his lab and be talking to The Blade about an editorial at the same time."
Other interviewed include Dr. Ruth Alteneder, UT professor emerita of nursing; Dr. S. Amjad Hussain, UTMC professor emeritus of thoracic cardiovascular surgery and a member of UT's board of trustees; UT President Lloyd Jacobs; Dr. Maurice Manning, UTMC distinguished biochemistry and cancer biology professor; Dr. James Patrick, UTMC professor emeritus of pathology and Lucas County coroner; Dr. Elizabeth Ruppert, UTMC professor emerita of pediatrics; Dr. Mary Smith, UTMC pathology professor, and Dr. Donna Woodson, UTMC family medicine professor.
Darren LaShelle, the film's executive producer and writer, said MCO's 50th anniversary gave WGTE "a red flag for us to do something" about the school's history.
One of the take-home points for viewers is how Toledo rallied around the concept of building such a facility from scratch.
"It wasn't a happy accident," Mr. LaShelle said. "It was something people really thought we needed."
MCO: A History of Healing and Teaching premieres at 8 p.m. Thursday on WGTE-TV.
Contact Tom Henry at: thenry@theblade.com or 419-724-6079.
Guidelines: Please keep your comments smart and civil. Don't attack other readers personally, and keep your language decent. Comments that violate these standards, or our privacy statement or visitor's agreement, are subject to being removed and commenters are subject to being banned. To post comments, you must be a registered user on toledoblade.com. To find out more, please visit the FAQ.