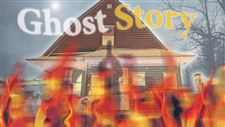 In February, The Dead Files came to East Toledo to assist a homeowner and her family who said they were troubled by multiple apparitions at this property.
BLADE PHOTO ILLUSTRATION Enlarge
The Dead Files is a popular hour-long docu-series on the Travel Channel that pairs Steve Di Schiavi, a retired New York homicide detective, with Amy Allan, a Denver psychic who says she sees and communicates with dead people. The two conduct separate investigations and walkthroughs of the locations, and later report what they find to the owners.
In February, The Dead Files came to East Toledo to assist a homeowner and her family who said they were troubled by multiple apparitions. The episode, titled "Demon War -- Toledo, OH," airs at 10 p.m. Saturday, and can be seen locally on Channels 48 and 656 on Buckeye Cablesystem.
The homeowner and her family had stories of multiple sightings of apparitions, scratches and burns, objects mysteriously being moved around rooms, and being physically pinned down and assaulted in bed by an unseen force. Were these experiences tied to that horrific inferno a century earlier?
RELATED: Reporter turns expert for '‍The Dead Files'‍
While I agreed not to talk with the family until after the show airs — look for their story and experience on Dead Files in my Aug. 8 Culture Shock column — I spoke with Di Schiavi and Allan in separate phone interviews about the Toledo episode.
Di Schiavi: Toledo was great. It was a really good investigation. Amy had a great walk and a lot of what they were going through in the house was backed up by the research I did, plus our interview, she saw all that. She saw the explosion. She saw that there were a lot of people dead. The people (in the home) were going through a lot. It was a gay couple that lived with one of the gay couple's daughter and her 2-year-old son, who was … [in danger of being] possessed by whatever was in the house.
They were being physically assaulted by the entities in the house. Yet there was somebody there who used to live in the house who was trying to protect them from it. And that actually came up in the research as well. So we were able to identify who this person was through the research and who she saw on the walk. It was one of those cases were everything we do kind of fell into place on this one.
Allan: To me during the course of the walk it was really interesting because the way it kind of started out wasn't horrible. I was encountering some residual haunting that was going on and I encountered a dead elderly gentleman that didn't seem too bad of a guy, so I was kind of initially, "Oh, this is not so horrible." And then it got really dark, really fast. And it was when I went upstairs and that's when I knew, "OK, there's a child that's in danger here." And even though I saw these negative entities interacting with the adults there, it was really what they could do to this kid that was really making me very, very concerned and honestly utterly terrified for this child's soul and life. And then of course the effect it would have on anybody around this child. It was fascinating to me just how it went from being OK to really not OK in the matter of just going up a flight of stairs. That was kind of interesting to me.
I remember mostly the dead elderly gentleman because we had had a lot of contact because he had reached out to me before we even got into the location and was kind of putting on an act of a big, tough whatever. I was just shocked. But I do remember him the most. As far as when you get into the negative, if there's a child involved that always stays with you because, even after the fact, you're wanting that to be taken care of as quickly as possible.
Contact Kirk Baird at: kbaird@theblade.com or 419-724-6734.
Guidelines: Please keep your comments smart and civil. Don't attack other readers personally, and keep your language decent. Comments that violate these standards, or our privacy statement or visitor's agreement, are subject to being removed and commenters are subject to being banned. To post comments, you must be a registered user on toledoblade.com. To find out more, please visit the FAQ.