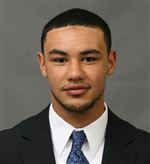 Eric Page
Toledo junior Eric Page was named to the first team at three positions on the All-Mid-American Conference football team announced Wednesday, while Bowling Green running back Anthon Samuel was named MAC freshman of the year.
Page, a Springfield graduate, was honored as a wide receiver, kick returner, and punt returner. He has 112 catches for 1,123 receiving yards this season, ranking second in the MAC and third nationally in receptions per game (9.3) while standing third in the league in receiving yards per contest (93.6). Page averaged 23.4 yards per kickoff return -- sixth-best in the MAC -- and 10.9 yards per punt return, which is second-best in the MAC and 17th nationally. Page also has one punt return for a touchdown this year.
Samuel rushed for a BG freshman record 844 yards and five touchdowns on 144 carries and surpassed 100 yards in five of the nine games he played. The native of Opa Locka, Fla., ranked sixth in the MAC and 37th nationally (third among freshmen) with his average of 93.8 yards per game.
Anthon Samuel
Toledo led the conference with five All-MAC first-team picks, as senior left tackle Mike VanDerMeulen and senior cornerback Desmond Marrow also were honored. VanDerMeulen was one of the anchors on an offensive line that allowed just nine sacks and helped the Rockets post a MAC-best 493.2 yards per game. Marrow had 72 tackles and also had three interceptions as well as 14 passes broken up, both among the best totals in the league.
The Falcons had four first-team selections, tied for second-best with Northern Illinois and Temple. BG's honorees were senior wide receiver Kamar Jorden, junior defensive lineman Chris Jones, junior linebacker Dwayne Woods, and sophomore punter Brian Schmeidebusch.
Jorden caught 78 passes for 1,089 yards and 12 touchdowns, ranking fourth in the MAC in both receptions per game (6.5) and receiving yards per contest (90.8). Jones had 47 tackles, including 8.5 sacks and 14 tackles for loss. Jones tied for the MAC lead in sacks with 0.71 per game and tied for fourth in tackles for loss (1.17 per game).
Schmeidebusch had 57 punts for 2,583 yards for an average of 45.3 yards per kick, including 19 punts of 50 yards or more and 18 punts that landed inside the opponent's 20-yard line. Woods led the Falcons with 111 tackles and had 14 tackles for loss, caused and recovered two fumbles, and intercepted one pass while breaking up another.
Mike VanDerMeulen
Representing the Rockets on the All-MAC second team were sophomore center Zac Kerin and senior running back Adonis Thomas, while the Falcons' BooBoo Gates was named to the second team as a kick returner. Also named to the second team was Ohio junior offensive lineman Eric Herman, an Oregon native who graduated from Central Catholic.
BG center Ben Bojicic was a third-team honoree, as was UT junior defensive end T.J. Fatinikun, a native of Perrysburg.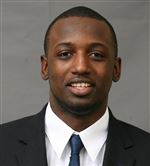 Desmond Marrow
Northern Illinois quarterback Chandler Harnish was named MAC offensive player of the year as well as the winner of the Vern Smith Leadership Award.
Eastern Michigan's Ron English was named MAC coach of the year, Western Michigan defensive lineman Drew Nowak was named defensive player of the year and Ohio kicker Matt Weller was named special teams player of the year.
The all-league team was chosen in a vote of the league's coaches, as was the Vern Smith award. The other specialty honors were determined by a vote of the MAC News Media Association.
Guidelines: Please keep your comments smart and civil. Don't attack other readers personally, and keep your language decent. Comments that violate these standards, or our privacy statement or visitor's agreement, are subject to being removed and commenters are subject to being banned. To post comments, you must be a registered user on toledoblade.com. To find out more, please visit the FAQ.