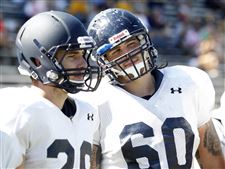 A.J. Lindeman, right, talks to a teammate in practice. The former walk-on will likely start on the offensive line.
The Blade/Amy E. Voigt
Enlarge | Buy This Image
Tattooed on the inside of A.J. Lindeman's right arm is a rendering of the Glass Bowl positioned beneath the number 60 -- the jersey that identifies the senior offensive lineman at the University of Toledo.
Lindeman got the branding last spring, affirming his allegiance to a program that has been the setting for his improbable success story the past five years.
No Division I program in the country declared him worthy of a scholarship coming out of high school, their dissatisfaction apparently born in Lindeman's doughy frame and his passiveness on the field. His rise from a nondescript walk-on -- one whom his college coach wasn't sure even liked football -- to a long-haired, tatted up, menacing right tackle will soon unfold.
Lindeman is expected to make the first start of his career Sept. 1 when UT opens at Arizona.
"Walking out in that stadium and starting for the first time would be a great feeling," he said.
His journey has been dotted with challenges, a theme shared by any player who has shed his walk-on status to become a meaningful member of his team. Lindeman cannot remember his body fat percentage his first season, ceding "I was pretty heavy."
Offensive line coach Tom Manning, then a graduate assistant, recalls him being "big" and not in a Schwarzenegger sort of way. Faithful to a diet of turkey sandwiches and salad, Lindeman, now 6-feet, 6 inches and 300 pounds, has dropped about 40 pounds. His bench press numbers are likewise impressive, as he has nearly doubled his output at 225 pounds from 12 repetitions to 23.
"Inside of there was a really good football player waiting to emerge," coach Matt Campbell said. "Now I think anybody in the country looks at A.J. Lindeman and if he was in high school you'd be recruiting that guy. He's a guy who would be getting a lot of scholarship offers and a guy you'd be fighting to get."
An admitted arrogance in wanting to prove critics wrong shut doors to smaller division programs. Lindeman's desire to play D-I took him on visits to several Mid-American Conference schools before he chose UT because of its engineering program (Lindeman graduated last spring with a degree in construction engineering and is currently enrolled in graduate level courses).
"I always thought he had the ability to start," said Paul Murphy, his high school coach at Waubonsie Valley in Aurora, Ill. "Like anything else it boils down to work ethic and determination. Are you willing to go through all of the headaches that go with being a walk-on?"
The moment walk-ons long for came to Lindeman in the fall of 2010 -- the start of his third season. Campbell, then his position coach, pulled him aside and presented him a scholarship, prompting "one of the greatest feelings" in Lindeman's life.
Another great moment: Working with the first-team offense. That distinction first came in the spring of 2011 when Lindeman stepped in for an injured John Morookian. The arrangement was thought to be temporary, with Lindeman tasked with keeping Morookian's spot warm until his return. He might not have won the job, but Lindeman continued to push Morookian in fall camp and received about 300 snaps in the 2011 season.
"Easily one of the most improved offensive linemen I've seen since I've been here," said senior linebacker Dan Molls.
Needing to break in three new starters, there are concerns that this season could come undone by a fledgling offensive line. Campbell isn't among them. A unit buoyed by two of the MAC's premier linemen in center Zac Kerin and right guard Greg Mancz, the new additions have consistently spurred praise from their coach.
In two weeks Lindeman's career will come full circle. His freshman season UT opened at Arizona, only then Lindeman stayed behind in Toledo. Five years later he will on site, likely starting.
"Another great feeling," he said.
Contact Ryan Autullo at: rautullo@theblade.com, 419-724-6160 or on Twitter @AutulloBlade.
Guidelines: Please keep your comments smart and civil. Don't attack other readers personally, and keep your language decent. Comments that violate these standards, or our privacy statement or visitor's agreement, are subject to being removed and commenters are subject to being banned. To post comments, you must be a registered user on toledoblade.com. To find out more, please visit the FAQ.