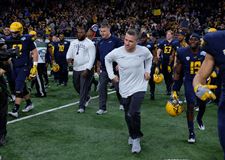 Jason Candle and Toledo look to bolster 2018 recruiting class during Wednesday's February signing day.
Blade/Lori King Enlarge
The University of Toledo football team has what currently is ranked by 247Sports.com as the top-ranked 2018 recruiting class in the Mid-American Conference, just ahead of Western Michigan.
Toledo and head coach Jason Candle signed 18 players during the early signing period in December, with quarterback Carter Bradley as the highest rated commit according to 247Sports. Bradley, from Providence High School in Jacksonville, is the 24th-ranked pro-style quarterback in the country.
In addition to the 18 players who already have signed their letter of intent with Toledo, the Rockets, according to 247Sports, have commitments from eight more players ahead of Wednesday's traditional signing day.
The most recent commitment came from D'Andre Ragin, an outside linebacker from St. Thomas Aquinas High School in Fort Lauderdale, Fla., who committed Sunday. Ty Wiley, a receiver from Pickerington (Ohio) North, pledged to the Rockets on Saturday, and Derrius Mullins, a defensive tackle out of Columbus St. Francis De Sales, committed Friday.
That most recent surge bumped Toledo's class ahead of Western Michigan.
The top-ranked player aside from the early signees is Jalynn Williams, a three-star receiver from St. Petersburg (Fla.) High School.
Evander Craft, an outside linebacker from the College of DuPage in Illinois, joins defensive end Jake Hudson of Saddleback College in California as the lone junior college commitments in the class. Hudson signed during the early signing period.
Rounding out the eight commits are Jackson Barrow, an inside linebacker from Cathedral High School in Indianapolis; Parker Bisek, an offensive lineman from Union, Ky.; and Maurice White, a defensive end from Martin Luther King High School in Detroit.
Those three players committed in May and June but did not sign in December.
Offensive lineman Tyler Long, a Springfield product, is the lone Toledo-area recruit. He signed during the early signing period.
If the 2018 class holds off Western Michigan after the February signing period, it will be the second consecutive year Toledo will boast the top recruiting class in the MAC.
Fans are invited to attend a signing day event hosted by UT at Savage Arena. Candle and the coaching staff will review all of the program's signees at an event that is set to begin at 4 p.m.
Contact Brian Buckey at: bbuckey@theblade.com, 419-724-6110, or on Twitter @BrianBuckey.
Guidelines: Please keep your comments smart and civil. Don't attack other readers personally, and keep your language decent. Comments that violate these standards, or our privacy statement or visitor's agreement, are subject to being removed and commenters are subject to being banned. To post comments, you must be a registered user on toledoblade.com. To find out more, please visit the FAQ.